PERFORMATURA 2023: PERFORMANCE LITERATURE FESTIVAL "Performatura Goes Pop"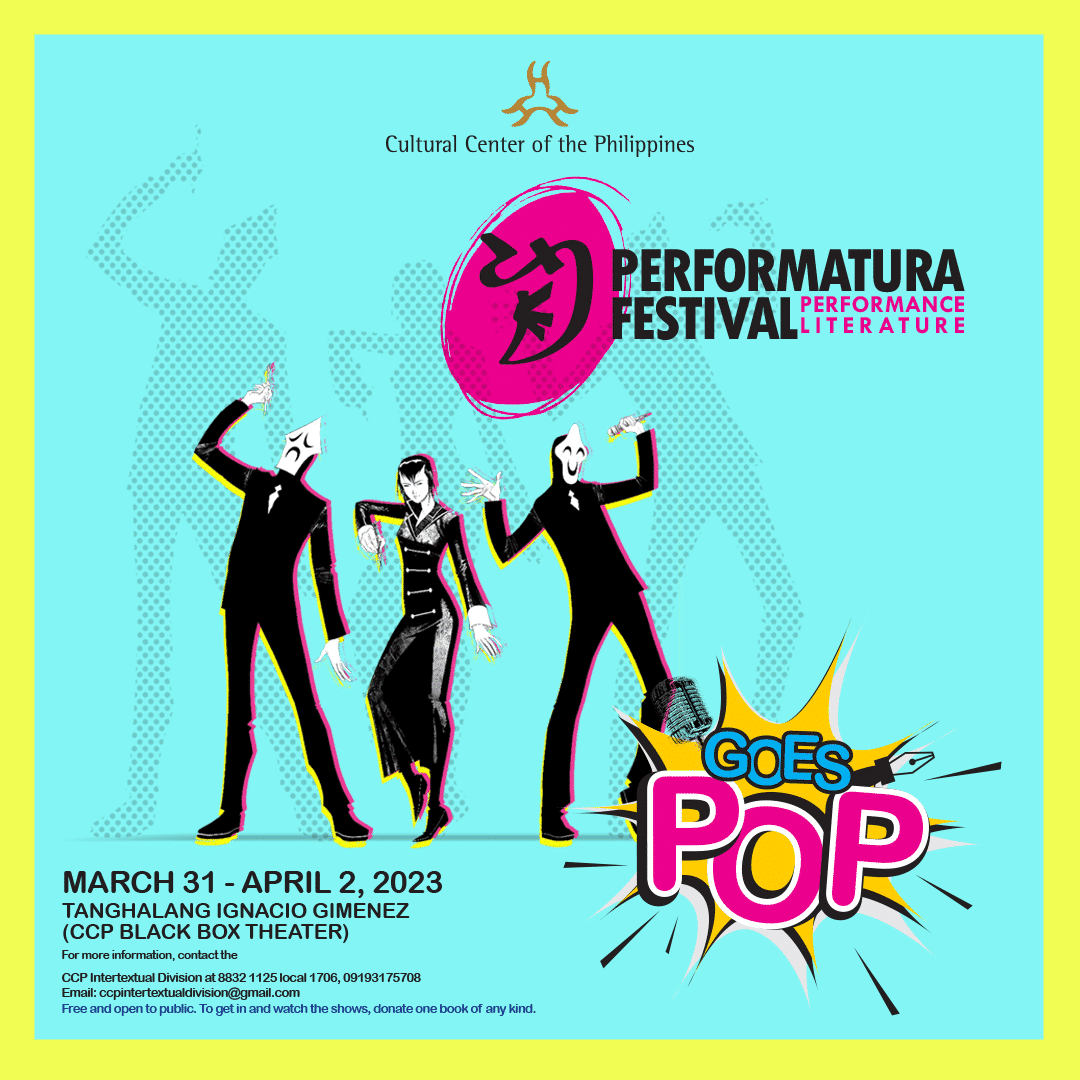 PRESENTED BY:
The Cultural Center of the Philippines
DATE/TIME/ VENUE:
March 31 to April 2, 2023 | 10:30 AM – 8:00 PM
Tanghalang Ignacio Gimenez (CCP Blackbox Theater)
DESCRIPTION:
The Cultural Center of the Philippines (CCP) brings Performatura, a performance literature festival. This three-day festivity promotes the rich history of Philippine literature, both the written word and oral traditions. There will be a variety of exciting activities like poetry readings, storytelling, theatrical shows, dance dramas, musical presentations, and even spoken word competitions headed by the festival's director Dr. Vim Nadera, a poet and a performance artist.
Unbox @ Blackbox: A book launch by Carlo Ople, a film showing of 'Brutal' by Marilou Diaz Abaya, a talk back and a book signing by Ricky Lee.
From Page to Stage: An excerpt of the 'Light of Words' by Gemino Abad, spoken workshop by Ampalaya Monologues and an open mic.
Araw ni Francisco Balagtas: Rap album launch of Anygma, poetry readings, and musical performances to celebrate the birth of Francisco Balagtas and show the importance of Bataan to one of the greatest Filipino Tagalog litterateur and poet.
Taking part in the festival are national artists, poets, writers, and performance artists. Books, artworks, and merchandise are also available at the Tanghanglang Ignacio Gimez Basement.
TICKET INFORMATION:
DAY 1 & DAY 3: A minimum donation of one book per show.
DAY 2: Register online and pay as you can (more details to follow).
October 6, 2023
- March 30, 2024
CCP @ ILOMOCA (Iloilo)
Arts Education