CONTINUUM A Dance Spectrum through the Years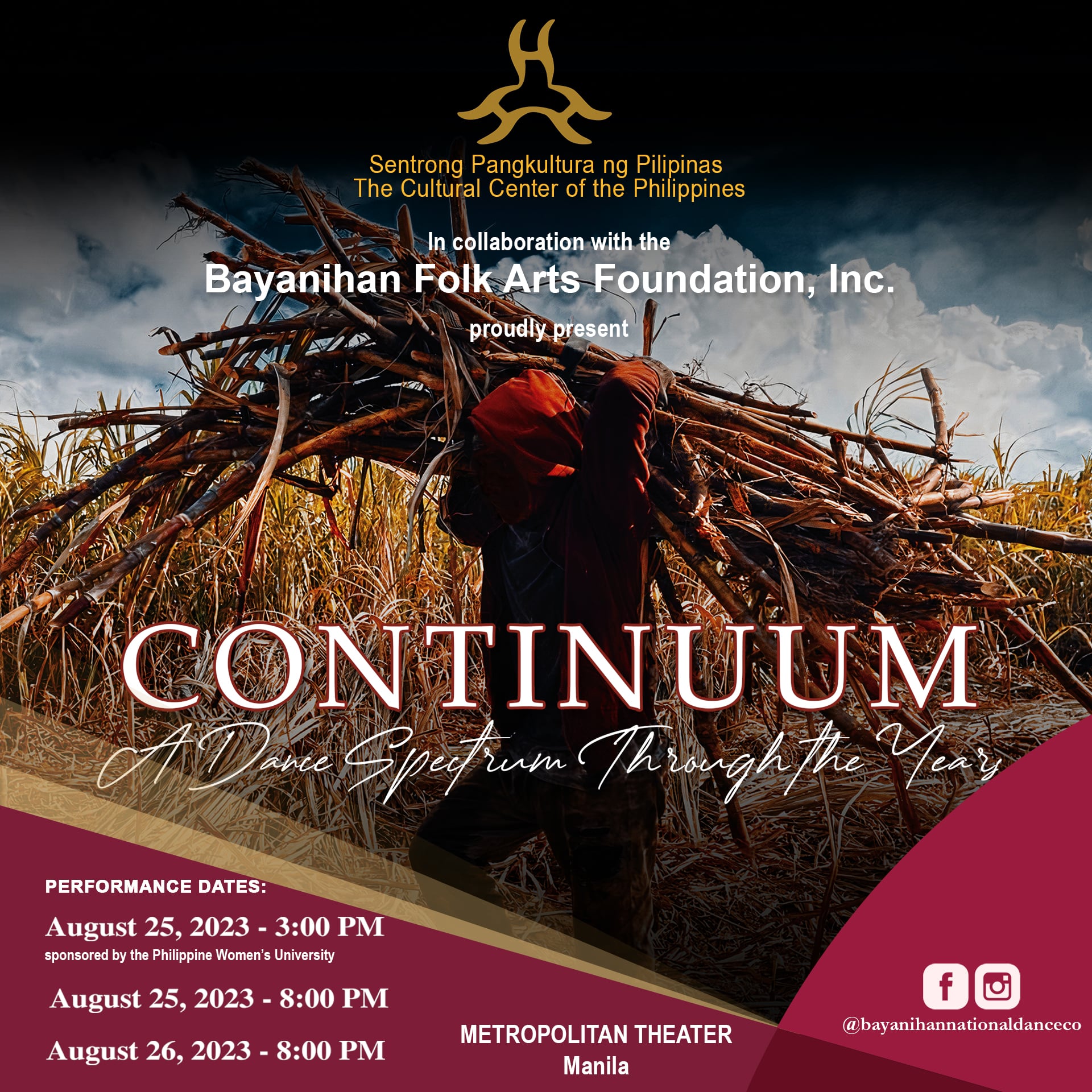 PRESENTED BY:
Cultural Center of the Philippines,
In collaboration with the Bayanihan, the National Folk Dance Company of the Philippines
DATE/TIME/ VENUE:
August 25, 2023 |3:00 PM and 8:00 PM
August 26, 2023 | 8:00 PM
CCP @ the Metropolitan Theater
DESCRIPTION:
Continuum, A Dance Spectrum through the Years presents a collection of timeless dances that have evolved over the years, intertwined with innovative and imaginative dance compositions. Enchanting portrayals of Negros and Cavite regions are highlighted for their cultural influences providing a visually enthralling journey for the audience. Bayanihan commemorates 67 years of constant growth and creative artistry, showcasing the Philippines' rich culture through captivating music and dance performances.
REPERTOIRE (1 hour & 20 minutes): 
Timeless Rhythms
Remastered
Tagipusuon Sang Negrense
Fiesta Caviteña
TICKET INFORMATION:
Ticket Prices –
Orchestra Center – 800
Orchestra Sides – 500
Loge   –     800
Balcony   –     300
Discounts:
20% discount for PWDs and Senior Citizens
Tickets available at Ticketworld (https://premier.ticketworld.com.ph/), Bayanihan Office: 1743 Taft Avenue, Malate Manila 085246285, 09225551534, 09178714429
September 5, 2023
10:00 AM
- October 8, 2023
6:00 PM
Bulwagang Roberto Chabet 3rd Floor Tanghalang Ignacio Gimenez (CCP Black Box Theater)
Visual Arts