CINEMALAYA XIX PHILIPPINE INDEPENDENT FILM FESTIVAL 2023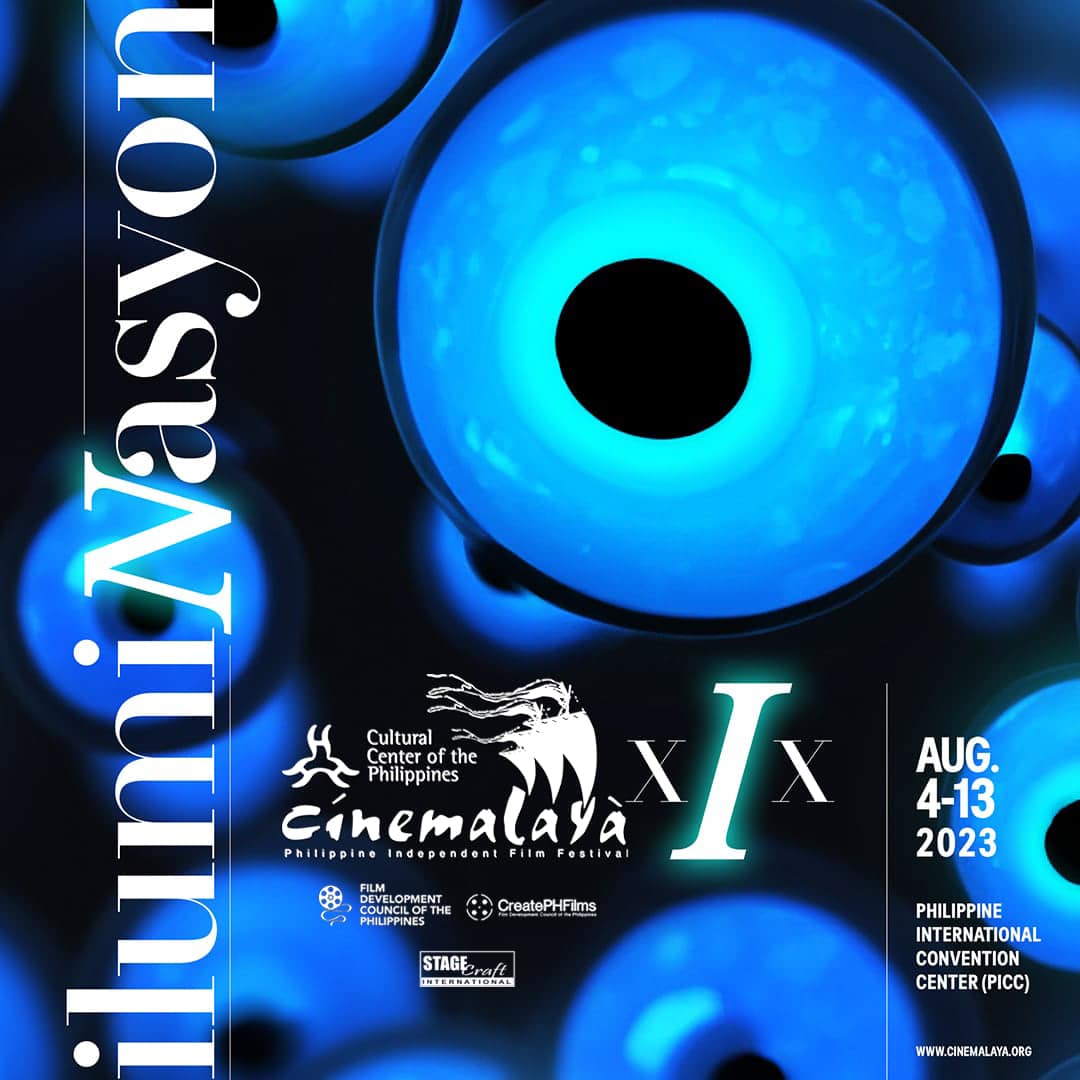 PRESENTED BY:
Cultural Center of the Philippines and
Cinemalaya Foundation, Inc.
DATE/VENUE:
August 4 to 13, 2022
Philippine International Convention Center (PICC)
Tanghalang Ignacio Gimenez (CCP Black Box Theater)
 DESCRIPTION:
For its 19th edition, the Cinemalaya Philippine Independent Film Festival promises to deliver the best visual storytelling with new competing films to be screened at the Philippine International Convention Center on August 4 to 13, 2023.
With the theme "ilumiNasyon," the country's pioneering independent film festival returns with 10 full-lengths and 10 short films in competition, as well as other components that will secure a space for independent filmmakers to tell their stories and share their perspectives on the issues that shape our times, while capturing the audience's imagination. Cinemalaya Festival 19 affirms the Integrity of the filmmaker's vision as it continues to Illuminate the Nation.
FESTIVAL COMPONENTS:
Full-Length Films
ANG DUYAN NG MAGITING (THE CRADLE OF THE BRAVE) by Dustin Celestino
AS IF IT'S TRUE by John Rogers
BULAWAN NGA USA (GOLDEN DEER) by Kenneth De la Cruz
GITLING by Jopy Arnaldo
HULING PALABAS (FIN) by Ryan Espinosa Machado
ITI MAPUKPUKAW (THE MISSING) by Carl Joseph E. Papa
MARIA by She Andes
ROOKIE by Samantha Lee and Natts Jadaone
TETHER by Gian Arre
WHEN THIS IS ALL OVER by Kevin Mayuga
Short Films
ANG KINING BINALAYBAY KAG AMBAHANON KO PARA SA IMO (THESE RHYMES AND RHYTHMS MEANT FOR YOU) By Kent John D. Desamparado
GOLDEN BELLS By Kurt Soberano
HINAKDAL (CONDEMNED) By Arvin Belarmino
HM HM MHM By Sam Villa-Real And Kim Timan
KOKURYO: THE UNTOLD STORY OF BB. UNDAS 2019 By Diokko Manuel Dionisio
MAKOKO SA BAYBAY (I AM GOING TO THE BEACH) By Mike Cabarles
MAUDI NGA ARAPAAP (LAST DREAM) By Daniel Magayon
SIBUYAS NI PERFECTO (PERFECTO'S ONION) By Januar Yap
SOTA (HORSE CARETAKER) by Mae Tanagon
TONG ADLAW NGA NAG-SNOW SA PINAS (THE DAY IT SNOWED IN THE PHILIPPINES) by Joshua Caesar Medroso
Other Festival Components
Cinemalaya Live Events: opening program, closing film, Cinemalaya Awards Night
Gawad CCP Para sa Alternatibong Pelikula at Video: the longest-running independent film competition of its kind in the ASEAN region
Cinemalaya Retrospective: a lookback at the winning films of past Cinemalaya editions
Festivals Best: a showcase of the best films from local festivals
Visions of Asia: award-winning Asian and Netpac films
Premieres: never-before-screened films
Dokyu: award-winning documentaries
Cinemalaya Campus: talkbacks, film appreciation workshops, and other activities
Exhibits: filmmakers' portraits, Cinemalaya alumni, ephemera
Industry: forums, trade fair, book launches
CINEMALAYA 2023 PROGRAM CATALOG (click/tap to open/download)
CINEMALAYA 2023 PROGRAM CATALOG (alternate link)
TICKET INFORMATION:
Ticket Prices:
Php 300 – Regular
Php 200 – Student
 Discounts: 20% for Senior Citizens, PWD, Government and Military Personnel, Athletes
Block/Group Sales: 20% discount for Cinemalaya 19 Full-length and Shorts Competition Filmmakers (minimum of 50 tickets)
Tickets available at Ticketworld (https://rb.gy/mwiv7)
Ticketworld outlets: https://rb.gy/aksj3
Cinemalaya 19 Festival Pass
Price: Php 2,880
Benefits:
Admission to all films-in-competition at the PICC Cinemas.
1 Festival Pass is equivalent to 12 tickets (10 full-length films and 2 sets of 5 short films).
Reserved seating system with seat numbers.
Priority lane entry to the screening venue.
Complimentary access to Vision of Asia screenings.
Mechanics:
Upon purchase of the Cinemalaya Festival Pass, the pass holder will be issued 12 tickets that indicate the assigned seat number (10 tickets to each of the full-length films, plus 2 tickets to each set of the short films in competition).
To claim the Visions of Asia complimentary ticket, proceed to the Cinemalaya Festival Pass Booth at the PICC Executive Lounge at the 2nd Floor, beside the CCP Cinemalaya Shop. Tickets will be released on a first-come, first-served basis, subject to availability of seats.
Important Notes:
The Festival Pass is non-transferable.
If a Festival Pass is lost, the buyer may request a replacement card for a cost of Php100.
For questions and other inquiries, please contact the CCP Box Office at +63 931 033 0880.
September 5, 2023
10:00 AM
- October 8, 2023
6:00 PM
Bulwagang Roberto Chabet 3rd Floor Tanghalang Ignacio Gimenez (CCP Black Box Theater)
Visual Arts