CARLO CALMA'S DIYOSA BY BALLET PHILIPPINES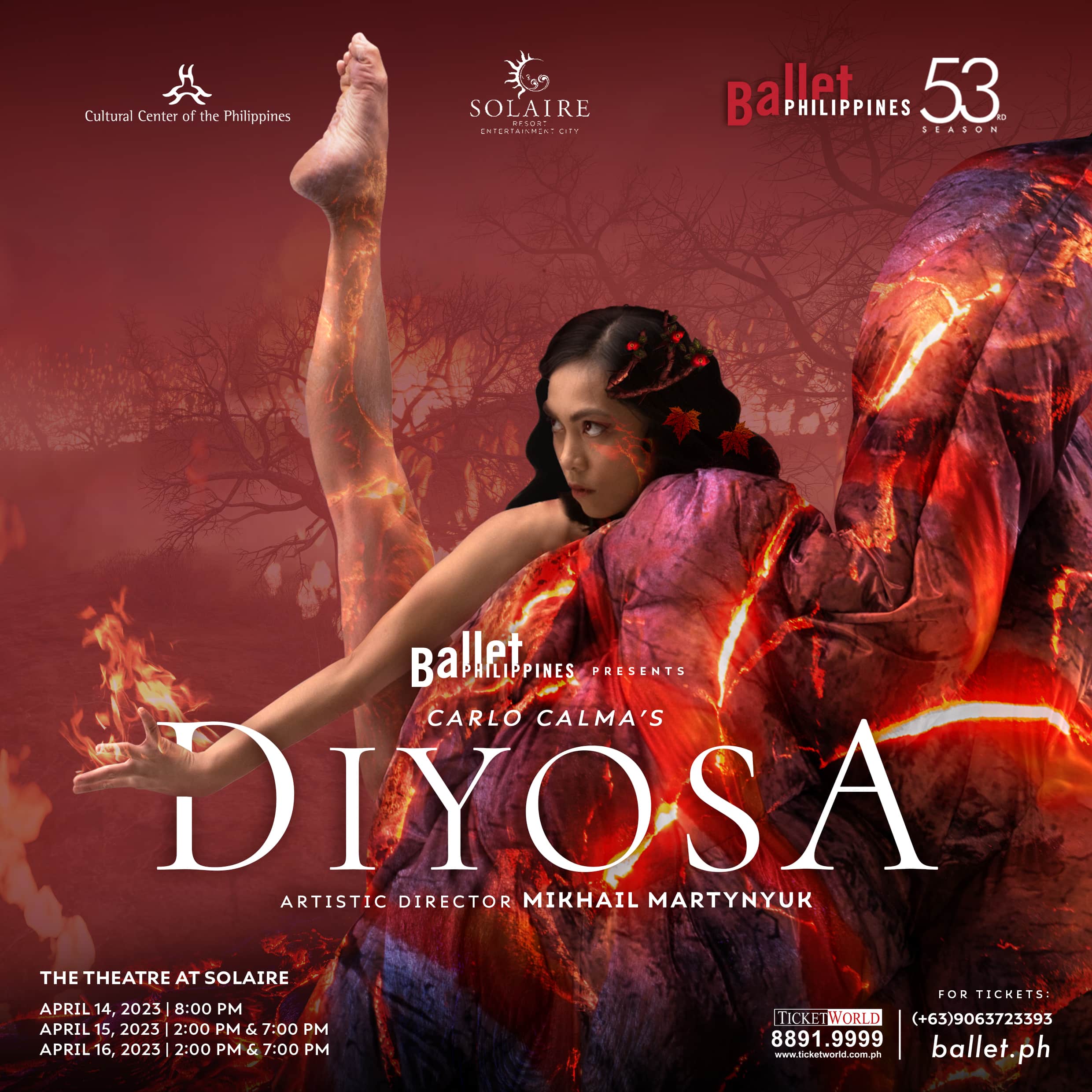 PRESENTED BY:
BALLET PHILIPPINES
DATE/TIME/ VENUE:
April 14, 2023 |8:00 PM
April 15, 2023 |2:00 PM and 7:00 PM
April 16, 2023 |2:00 PM and 7:00 PM
CCP @ The Theatre at Solaire
DESCRIPTION:
DIYOSA is a contemporary adaptation by Carlo Calma about Philippine gods and goddesses. Choreographed by Ballet Philippines' Artistic Director Mikhail Martynyuk, this original and captivating dance piece juxtaposes elements from Philippine culture with the jolting battle cries about climate change and the global environmental crisis.
Calma's libretto takes place in a dreamy, mythical world not typically found in physical spaces and linear time frames. It follows a sensory journey towards humankind's awakening and metamorphosis. Integrating culture, history, myth, legend and Filipino humor, DIYOSA sparks a new conversation on sustainability that endeavors to remain relevant throughout the ages.
The ballet is set against, amidst, and within the DIYOSA universe. Here, dance, art, design, architecture, digital projections, and fashion move in unison to send a clear message about climate change. The performance also highlights new and never-before-seen methods for bringing characters and story lines to life. Sequences follow stages of a dream where gods and goddess transport take on both the human and abstract form.
Choreographing for DIYOSA is a fine practice in precision, shares Martynyuk. "The concept of gods and goddesses in this piece is very abstract. Our aim was to create a modern experience of the deities through a combination of classic, neo classic and modern dance styles." The first of its kind in Philippine performance arts, the ballet piece was conceived to work hand-in-hand with the costumes, set design and art work. The company's Artistic Director ends, "It's the perfect marriage of dance, music, storyboard, light projections, and art."
Harnessing the power of dance to convey the urgency and reality of climate change, Calma's adaptation of DIYOSA is an experience that will take audiences through a wide spectrum of emotions propelled by visual, spatial, auditory and sensorial encounters. "It will be fun and eclectic with quirky god characters–fusing art, music, fashion, architecture, and the power of dance."
 TICKET INFORMATION:
 Orchestra Platinum (Center) – 3,000
Orchestra SVIP (Side) – 2,500
Orchestra VIP – 1,800
Premium Gold – 1,500
Lower Balcony – 800
Upper Balcony – 600
 For ticket inquiries:
Call Mark Agbayani at +639052717164 or Carrie Domingo at +639175251770
Call TicketWorld at 8891-9999 / 09175506997 (Globe) / 09999545922 (Smart), or visit https://premier.ticketworld.com.ph/
NOTE: Please check the Theatre at Solaire's Guest Vaccination Guidelines at https://www.solaireresort.com/article/frequently-asked-questions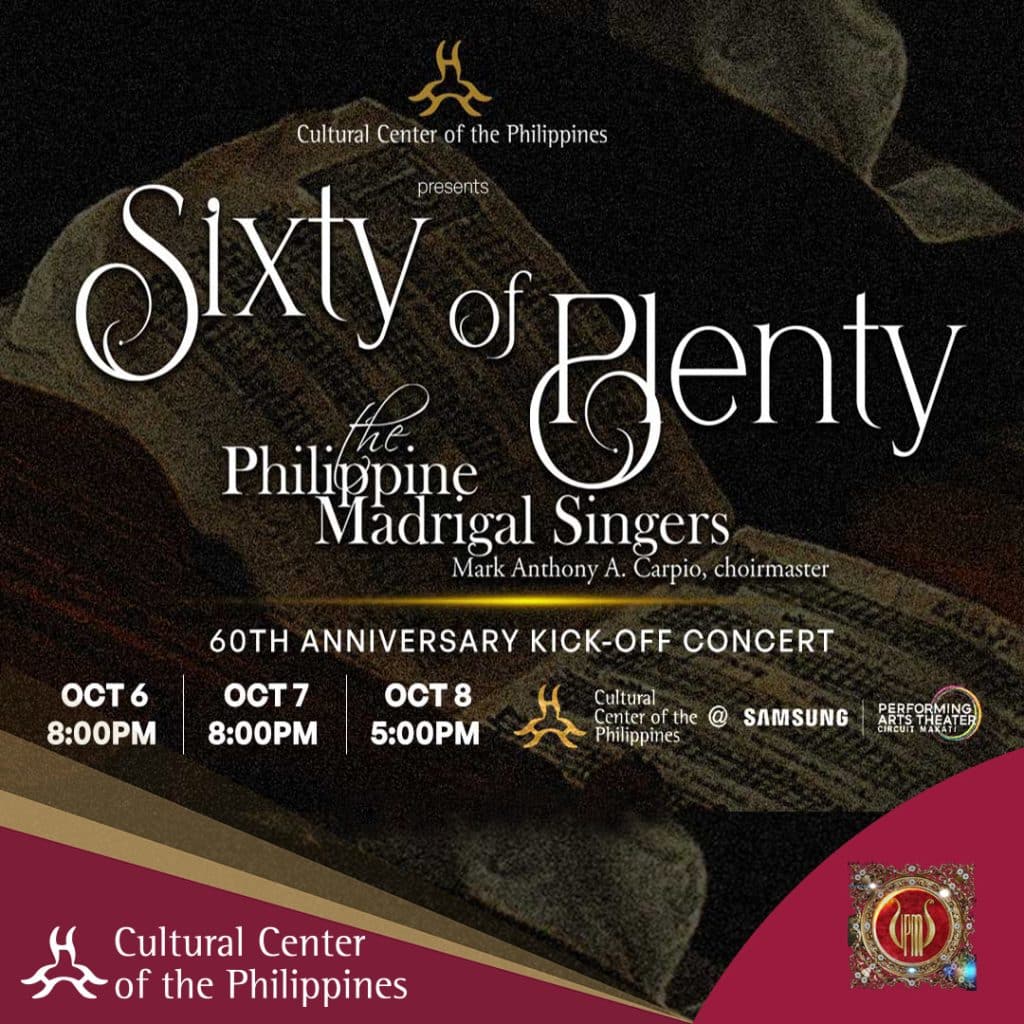 October 6, 2023
- October 8, 2023
CCP @ the Samsung Performing Arts Theater
Music