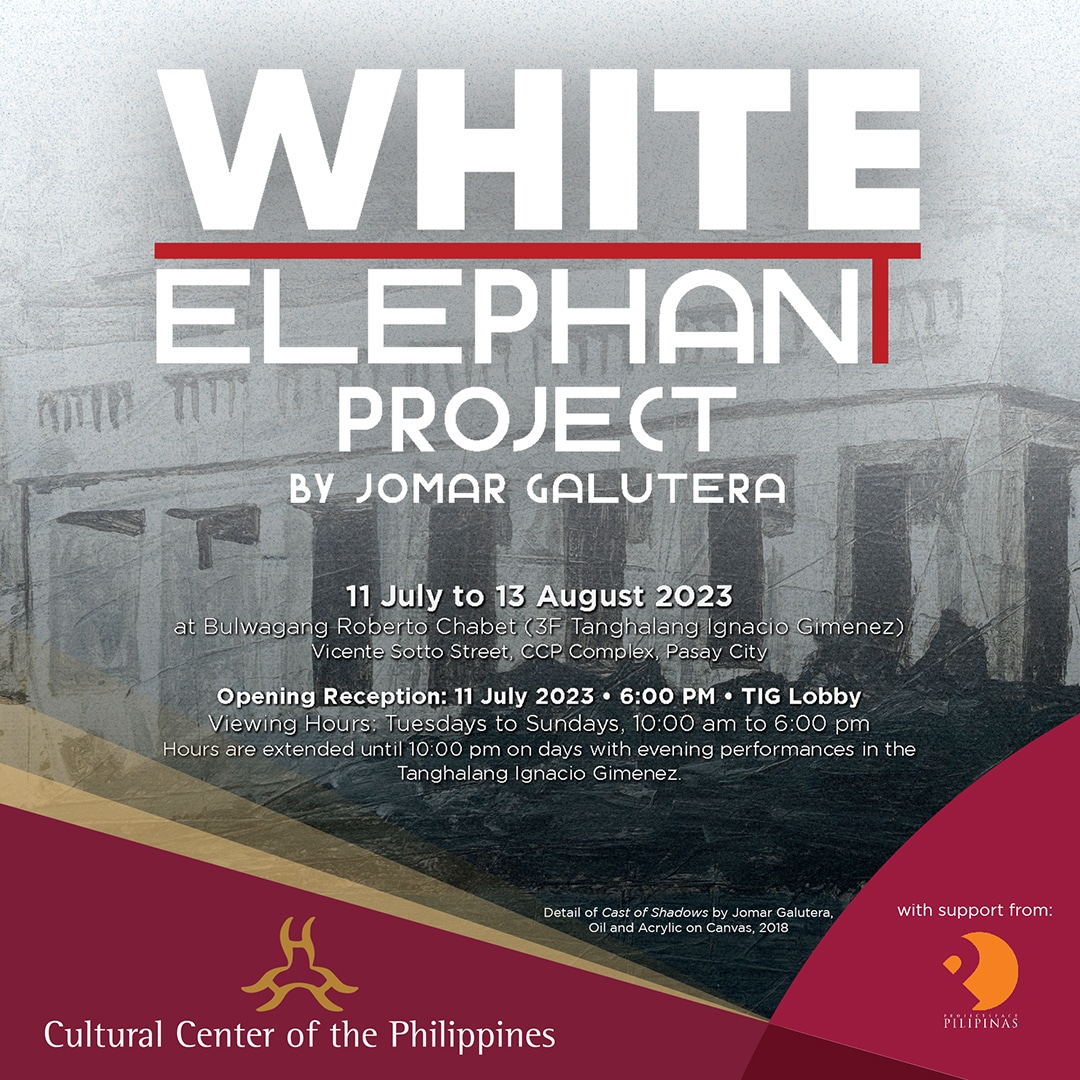 PRESENTED BY:
Cultural Center of the Philippines
with support from Project Space Pilipinas
DATE/TIME/ VENUE:
July 11 to August 13, 2023
Bulwagang Roberto Chabet, 3rd Floor Tanghalang Ignacio Gimenez (CCP Black Box Theater)
Regular Viewing Hours: 10:00 AM to 6:00 PM (Tuesday to Sunday)
Opening Reception: July 11, 2023 | 6:00 PM
TIG Lobby
DESCRIPTION:
The White Elephant Project is a serial inquiry into monumental infrastructures by the visual artist Jomar Galutera. The artist, to support his independent practice, propagates edible mushrooms and sells them to local restaurants in Lucban. This mushroom farming provides him with an insight into how organic materials flourish in decomposing substrate matter. This idea resonates with how disused, derelict, and destroyed buildings may have a future for utilitarian and humanitarian purposes. For this iteration of White Elephant Project, Galutera discursively engages the cultural complex specifically Manila Film Center (MFC) as another site of exploration for his first solo exhibition in Metro Manila. He is interested in the history, architecture, and adaptive reuse of the building, delving into the complex factors that shaped its Parthenon-inspired architecture. Through monochromatic paintings and video installations, the artist acts like a hybrid researcher that surveys online film clips and resources related to MFC as well as onsite visits and documents it through photographs and videos in order to understand the interplay between architecture and social space, history with its current evolution, as well as art and public buildings.
The exhibition is curated by Fr. Jason Dy, SJ and supported by Project Space Pilipinas.
ABOUT THE ARTIST:
Jomar Galutera (b. 1981, Balanga City, PH) is a graduate of a Bachelor of Fine Arts major in Painting from the Philippine Women's University in Manila, where he also developed an interest in video installation and photography. Prior to taking up painting, he was an architecture student of the Far Eastern University for two years. Born in Bataan and now lives and works in Lucban, Quezon, he has been exhibiting his works since 2005 both in local and international art spaces. Galutera was artist-in-residence at Project Space Pilipinas (PSP) in Lucban, Quezon in 2014 and the Perahu Art Connection in Yogyakarta, Indonesia in 2017. As a part of the exhibition production team of PSP, Galutera's creative process has evolved from monochromatic paintings as seen in the landscape series of the ruins at the Corregidor Island (Manila Bay) to the large, wall-bound installations like in the first iteration of White Elephant Project (2017) depicting the Bataan Nuclear Power Plant. The use of readily accessible materials in his installations like multi-purpose bond papers, multiple ink jet prints, and "gawgaw" paste (starch glue) connects with the graffiti art tradition of pasting posters and prints on cemented walls.
Jason Dy, SJ (b. 1977, Cagayan de Oro City, PH) is a Jesuit priest and Filipino contemporary artist who is currently lecturing at the Fine Arts Department of the Ateneo de Manila University, Quezon City. From being a registered Civil Engineer, he pursued his artistic inclinations. As a self-taught artist, he developed his artistic interests by attending art workshops, art classes, art conferences and art exhibitions as well as integrating art into his studies in theology and his pastoral ministry. He proceeded to take up his graduate studies in the arts, namely, MA by Creative Practice and MA in Art History and Curating at Liverpool Hope University, UK. Through his graduate studies, he is able to articulate his current creative practice that investigates into "the community and studio-based responses to changing religious and cultural circumstances, locations and events" (LHU).
Project Space Pilipinas (PSP) is an artist-initiated platform committed to the development of various practices of art through traditional, alternative and emerging approaches located in Quezon Province. Founded by Lucban resident and award-winning contemporary artist Leslie de Chavez, PSP is a home for local and global artists to exhibit in the space and engage with the Lucbanins. PSP has been based in Lucban for more than 10 years now, after moving from Mandaluyong back in 2011.
TICKETS:
FREE ADMISSION!
September 5, 2023
10:00 AM
- October 8, 2023
6:00 PM
Bulwagang Roberto Chabet 3rd Floor Tanghalang Ignacio Gimenez (CCP Black Box Theater)
Visual Arts