PASINAYA 2023 The CCP Open House Festival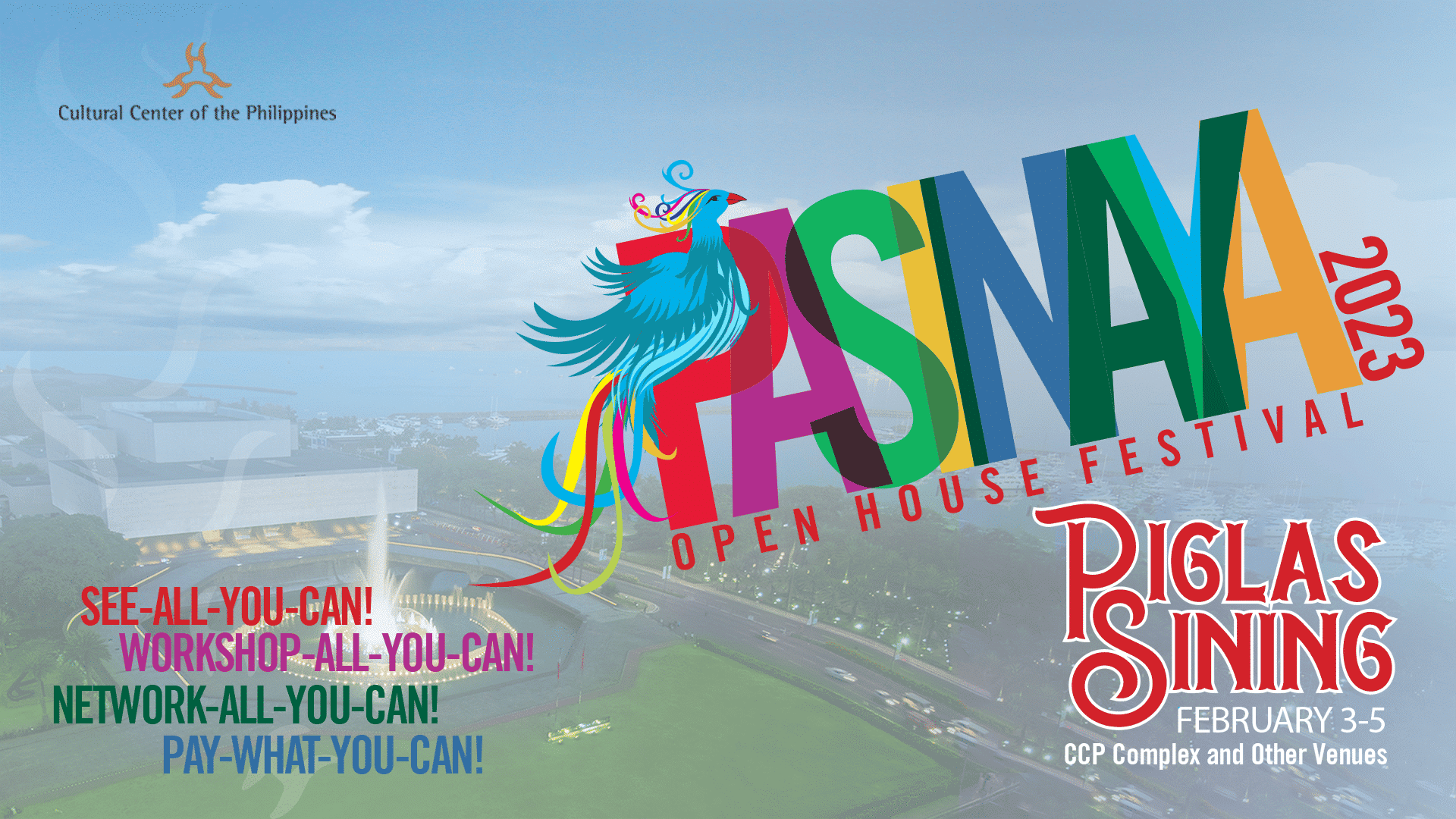 PRESENTED BY:
The Cultural Center of the Philippines
DATE/TIME/VENUE:
February 3 to 5, 2023
February 3: Pagtitipon
February 4 & 5: Palihan, Palabas, Palitan, and Paseo Museo
Various Venues at the CCP Complex (CCP Front Lawn, Liwasang Kalikasan, Tanghalang Ignacio Gimenez, and Vicente Sotto Street)
Various Museums and Galleries in Metro Manila
_____________________________________________
A wide variety of exciting activities await the public in PASINAYA 2023: The CCP Open House Festival; the largest annual multi-arts festival in the country, as it returns LIVE in various venues at the CCP Complex and in partner museums and galleries. Audiences can choose from over a hundred shows, workshops, and other various activities in music, theater, dance, visual arts, film, and literature. Taking Piglas Sining as its theme, the biggest inter-arts festival returns live with five components:
Pagtitipon: The CCP Kaisa sa Sning Regional Arts Centers hold its Annual General Assembly to share plans and programs at the CCP Tanghalang Ignacio Gimenez. This year's gathering of regional partners will mark the 10th year of the KSS network.
Palihan: "Workshop-All-You-Can" – workshops in all the art forms to be conducted by experts in their field.
Palabas: See-All-You-Can, Pay-What-You-Can" – Performances and film screenings featuring the CCP Resident Companies, professional, amateur and community-based artists and arts organizations in all the art genres.
Palitan: Arts Market – Artists pitch to prospective producers.
Paseo Museo: A visit to the various museums in Metro Manila. Check out the information on partner museums and the museum tour routes at https://bit.ly/CCPPasinaya2023-PaseoMuseoSched
Taking part in the festival are art groups and individual artists from all over the country.  With performances and workshops in four outdoor venues at the CCP Complex and at the Tanghalang Ignacio Gimenez as well as in 13 museums in the city, an audience of 14,000 warm bodies is expected to attend.
Following health and safety measures, the Pasinaya festival is a safe space for artist and audiences, including children and families.
FESTIVAL SCHEDULE
TICKET INFORMATION:
Minimum suggested donation: P50 (for the wristband)
Register here: https://bit.ly/pasinaya2023
See-All-You-Can, Workshop-All-You-Can, Network-all-You-Can, Pay-What-You-Can!
September 5, 2023
10:00 AM
- October 8, 2023
6:00 PM
Bulwagang Roberto Chabet 3rd Floor Tanghalang Ignacio Gimenez (CCP Black Box Theater)
Visual Arts