KORYOLAB 2023: IN THE ROUND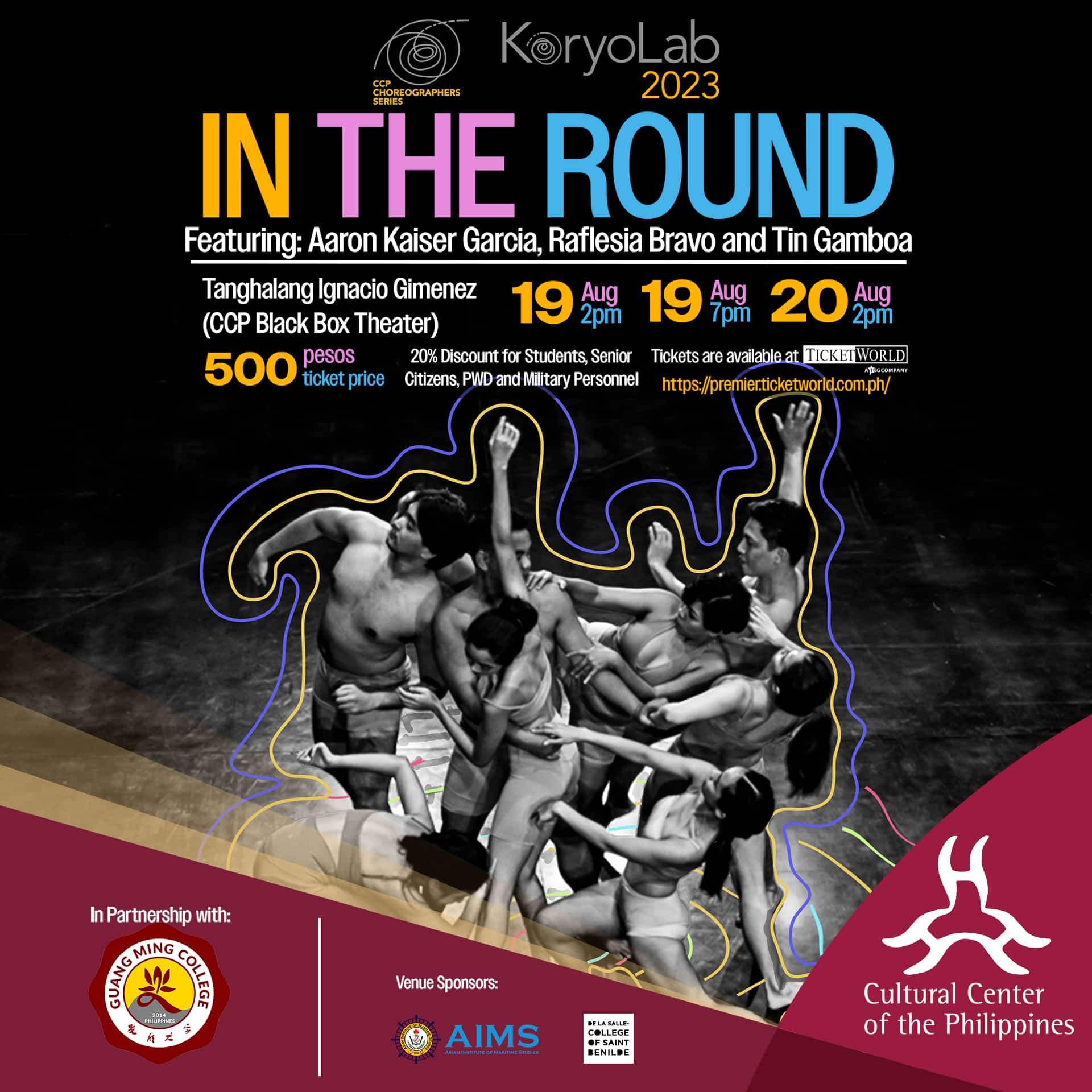 PRESENTED BY:
Cultural Center of the Philippines
in cooperation with Tanghalang Pilipino Foundation, Inc.
DATE | TIME | VENUE:
August 19, 2023 | 2:00 PM & 7:00 PM
August 20, 2023 | 2:00 PM
Tanghalang Ignactio Gimenez (CCP Black Box Theater)
DESCRIPTION:
Koryolab is a laboratory and research platform for the development and presentation of experimental dance pieces by mid-career choreographers in a black box space mentored intensively by the pioneers in contemporary dance. It is the second tier of the CCP Choreographers' Series, a three-part platform in support of the Filipino choreographer. The CCP Choreographers Series is the prime mover of contemporary dance expressions in Philippine society.
The term "in-the-round" harkens to indigenous and folk-dance practices found in the Philippines, and changes the proscenium setting to a circular sharing of energies and space between audience and performer, which is suited for the new CCP Black Box Theater. As the series enters into a post-pandemic world, this year's Koryolab features choreographic works of three featured artists – Aaron Kaiser Garcia, Tin Gamboa, and Raflesia Bravo – that are intentional in seeking for new ways of choreographing and conceptualizing dance with critical questions that look into lived experiences, movement practices, and communities. Aside from experimentation, central to the series' thrust in Koryolab is mentorship. This year, the artists were guided by Denisa Reyes and Paul Ocampo as an exchange between past and present.
FEATURED WORKS:
 E X P O [ S E ] by Aaron Kaiser Garcia,  is a solo body contemporary dance exploration on the manifestations of expositions of the body as an evidence-based research project by mapping different Philippine ethnolinguistic groups that are exploited in expositions, and reimagining/recreating the performances and the exploitations of the Filipino body as represented by my own vessel as an artist.
DAMA, a piece by Tin Gamboa, is a statement and vehicle for multi-sensory empathy between performer and audience, where the performer's vulnerable multi-sensory expressions and the audience's act of witnessing hold joint empathic currency.
BABA-I-LAN, by Raflesia Bravo, is an Ethno-Fiction story that aims to inspire reconnection with our inner selves and the discovery our inner babaylans. It begins with a ritual, prayer, and chanting, then tells the story of the creation of the world and Humanity. Then comes the birth of the "Babaylan," the anointed one that connects the spiritual realm with the people. One of many shaman names in the Philippines, the Babaylan is the healer priestess seer, guardian of folk knowledge, and performer of rituals that makes the community grounded and at peace.
TICKETS:
Ticket Price: P500
Discounts: 20% for Senior Citizens, PWDs, Government Employees, Military Personnel, and National Athletes
Tickets available at Ticketworld (https://premier.ticketworld.com.ph/)
For group discounts and other inquiries, please email
September 5, 2023
10:00 AM
- October 8, 2023
6:00 PM
Bulwagang Roberto Chabet 3rd Floor Tanghalang Ignacio Gimenez (CCP Black Box Theater)
Visual Arts