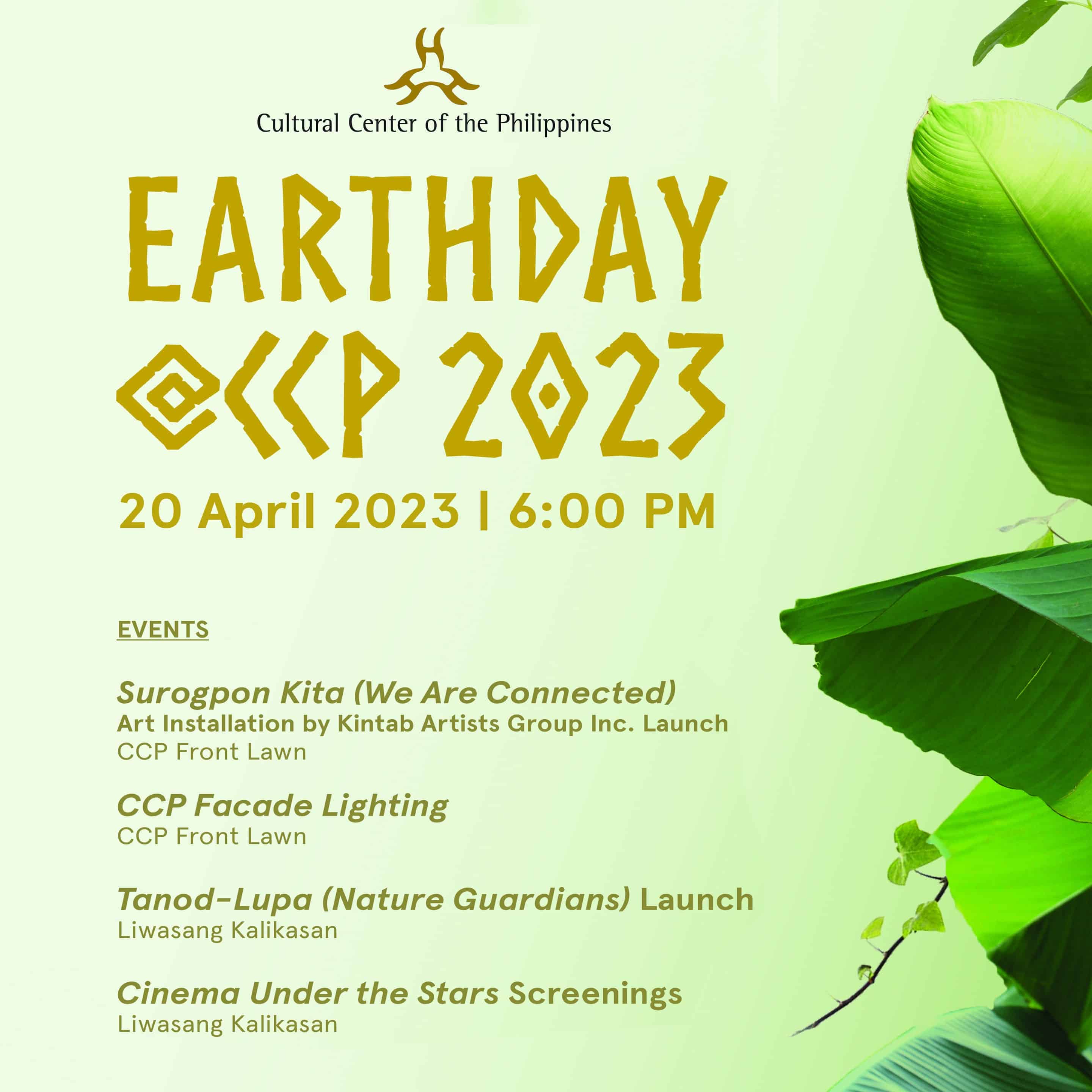 PRESENTED BY:
Cultural Center of the Philippines
DATE | TIME | VENUE:
Launch Date: April 20, 2023 | 6:00 PM
CCP Front Lawn, Façade, & Liwasang Kalikasan
DESCRIPTION:
In celebration of Earth Day, the Cultural Center of the Philippines in collaboration with various visual artists will unveil a series of public conceptual art installations showcasing a diverse array of natural, indigenous, and found objects and materials, with the aim to promote public consciousness about environmental issues.
Event Components:
Surogpon Kita (We Are Connected)
An installation at the CCP Front Lawn by Kintab Artists Group, Inc. (KARGI), a Bicol-based non-profit group of visual artists, writers, musicians, and other creative talents, dedicated to expressing diverse identities through their unique artworks. The installations that reflect the Earth Day theme "Invest in our planet" feature papier-mâché masks and assemblages made from natural and indigenous materials sourced from local artisans in the province of Bicol. A performance art called "Harmony" is also scheduled to run simultaneously with its launching to engage with passers-by through creative physical conversations. This installation will be open for public viewing until May 28.
CCP Façade Lighting
The CCP Façade will be illuminated with green as the dominant color and other earth colors; with gobos projection of related images to achieve dimension; and with lighting instruments to create movement. The public may view this lighting event from 6:30 PM to 9:00 PM until April 30.
"Tanod-Lupa" (Nature Guardians)
An art installation at the Liwasang Kalikasan by multimedia artist Abdulmari "Toym" De Leon-Imao, showcasing various illuminated Philippine mythical creatures and the reinvented "panolong," an architectural element in Maranao Torogan houses of the south.
CCP Cinema Under the Stars (CCP-CUTS) and CCP Arthouse Cinema
Free screenings of a chosen collection of films that pay tribute to the lives of patriotic Filipino environmentalists and earth warriors, including those for the distant future, at the Liwasang Kalikasan. "Himig Himbing," the documentary "Balitok" by she Andes, and Gawad Alternatibo films will be screened at 3:00 PM. These will be followed at 8:00 PM by "Ani," a Cinemalaya film by Kim Zuñiga & Sandro Del Rosario.
TICKETS:
FREE Admission!
October 6, 2023
- March 30, 2024
CCP @ ILOMOCA (Iloilo)
Arts Education