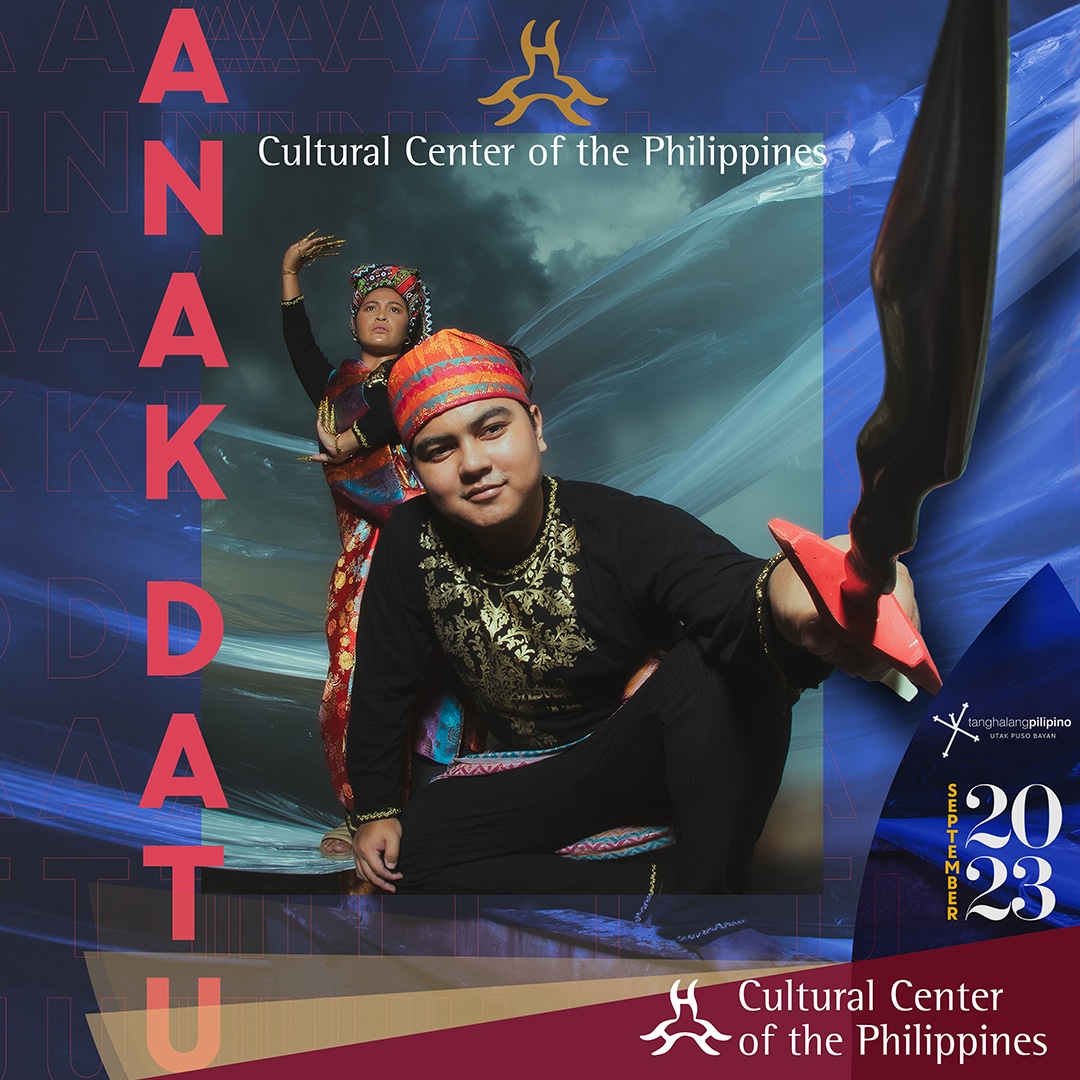 PRESENTED BY:
The Cultural Center of the Philippines and Tanghalang Pilipino
SHOW DATES/TIME/VENUE
THU                         FRI                                  SAT                           SUN
________________ Sept 29 (8PM)         Sept 30 (3PM|8PM)       Oct 1   (3PM)
Oct 5 (8PM)     Oct 6 (3PM|8PM)      Oct 7 (3PM|8PM)          Oct 8   (3PM)
Oct 12 (8PM)   Oct 13 (3PM|8PM)    Oct 14 (3PM|8PM)       Oct 15 (3PM)
Venue:  Tanghalang Ignacio Gimenez (CCP Black Box Theater)
 DESCRIPTION/SYNOPSIS:
Based on National Artist Abdulmari Imao's "ANAK DATU", the story revolves around a son of a village chieftain in Muslim Mindanao during the pre-colonial Philippines. Before he is born, the village is raided by pirates, and his mother gives birth in captivity. Hence, he grows up believing that his father is a former pirate. Only upon the death of the old man does the son discover the truth about his real father. This short story gave birth to Rody Vera's stage adaptation adjacent to other events in the history of Mindanao and the personal lives of Abdulmari Imao's family.
Prepare to be captivated as ANAK DATU explores themes of identity, heritage, and the pursuit of peace. Tanghalang Pilipino's innovative production promises to transport audiences into a mesmerizing world where the past, present, and future converge.
*Original Photo by Paw Castillo
 ARTISTIC TEAM
Playwright: Rody Vera
Stage Director:  Chris Millado
Composer & Musical Director: Josefino Chino Toledo
Set Designer: Toym Imao
Music Arranger and Sound Designer: TJ Ramos
Choreographer: Hassanain Magarang
Fight Choreographer: William Guillermo
Costume Designer: Carlo Villafuerte Pagunaling
Projection Designer: GA Fallarme
Lighting Designer: Katsch Catoy
Assistant Director: Antonette Go-Yadao
Assistant Choreographer: Lhorvie Nuevo-Tadioan
Assistant  Lighting Designer: Charlotte Job Despuez
CAST (In order of appearance)
ADBULAMARI IMAO: Paul Jake Paule
TOYM IMAO/ BINATANG KARIM: Carlos Dala
GRACE DE LEON: Antonette Go-Yadao
MATANDANG JIBIN ARULA: Gie Onida
BATANG JIBIN ARULA / ENSEMBLE: Mark Lorenz
DATU KARIM: Hassanain Magarang
PUTLI LOLING: Tex Ordeñez-De Leon
PUTLI LOLING: Lhorvie Nuevo-Tadioan
JIKIRAN / ENSEMBLE: Ramli Abdurahim
BERNIE BANDILLA / ENSEMBLE: Vince Macapobre
ABU BAYAO / ENSEMBLE: Edrick Alcontado
DALAGANG WALANG NGALAN / ENSEMBLE: Sarah Monay
LASINAH ABDULLAH / ENSEMBLE: Heart Puyong
ABDULSUKOR TACBIL / ENSEMBLE: Mitzi Comia
NUR MISUARI / ENSEMBLE: Arjhay Babon
MUSICIANS
KULINTANG: Andre Garcia
AGONG: Kent Capistrano
DABAKAN: TBD
TICKET INFORMATION:
Tickets are at P1,500 each
*Free Seating Arrangement applied
Tickets are available via the TP Google Sheets and via Ticket2Me
🎟️ https://bit.ly/ANAKDATU2023
🎟️ ticket2me.net/e/37918 (Ticket2Me)
September 5, 2023
10:00 AM
- October 8, 2023
6:00 PM
Bulwagang Roberto Chabet 3rd Floor Tanghalang Ignacio Gimenez (CCP Black Box Theater)
Visual Arts