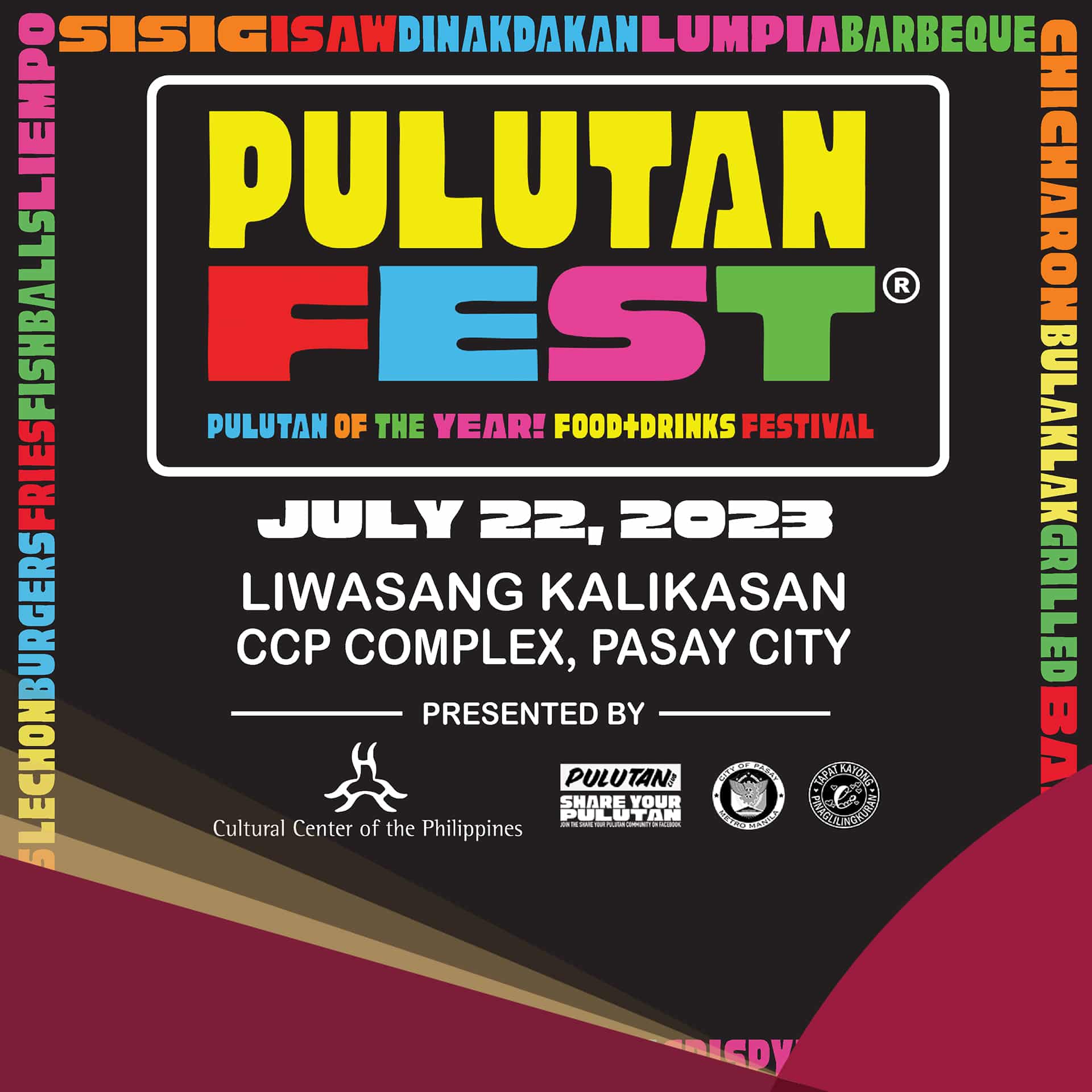 PRESENTED BY:
Cultural Center of the Philippines,
SYP (Share Your Pulutan) Facebook community
with the support of Pasay City Government
DATE | TIME | VENUE:
July 22, 2023 | 3:00 PM to 12:00 AM
CCP Liwasang Kalikasan
WEBSITE:
 DESCRIPTION:
The first ever PulutanFest is a culinary gathering where the legendary sisig from Makati, viral sisig from Marikina, trending grilled balut from Tondo, all-time favorite isawan from Quezon City, classic ihaw-ihaw from Cavite, and many more mouthwatering treats come together in one place. PulutanFest  2023 aims to celebrate the unique and diverse pulutan culture of the Philippines. It offers pulutan vendors the opportunity to showcase their unique creations, gain revenues, expand their customer base, and gain wider recognition.
Also part of the festival's advocacy is the preservation of a unique art form from our jeepney sign makers. Signs during the event will be created by these artisans, and we believe that this will give them a platform to showcase their craft and promote its value to our culture.
What to expect:
Pulutan vendors
Drink stalls
Band performances
Fiesta games
Raffle Prizes
Be part of history and vote for the first Pulutan of the Year
 TICKETS:
Ticket Prices:
Php500 – Regular Pass + 1 Token to play on one of the games
Php2,500 – VIP Table (Good for 4) + 4 Token to play on the fiesta games
Tickets available at https://pulutanfest.com
Join SYP (Share Your Pulutan) Facebook community or any of our partner communities to get P200 Off Regular Pass.
September 5, 2023
10:00 AM
- October 8, 2023
6:00 PM
Bulwagang Roberto Chabet 3rd Floor Tanghalang Ignacio Gimenez (CCP Black Box Theater)
Visual Arts