Mythical folk creatures like the kapre, aswang, nuno sa punso, tikbalang, diwata, and manananggal, collectively dubbed Tanod-lupa, find a new home at the CCP Liwasang KaLIKHAsan through the arts installations by Filipino visual artist Abdulmari "Toym" De Leon-Imao, Jr. They began their migration into the park beginning April, during the Earth Day celebrations.
Together with Sinag 2023: Tuloy Ang Palabas, son et lumiere (light, sound, and projection show) to commemorate the 54th founding anniversary of the Cultural Center of the Philippines, they will be playfully exhibited around the Liwasan for Instagrammable photo ops, supplemented by fitting soundscapes designed by TJ Ramos.
Slated on September 28, 7pm, at the Front Lawn, Sinag 2023 encapsulates the CCP's activities as an institution (beyond its iconic Building),
extending its programs, projects, and productions to different venues, cities, and regions in the country in line with its ongoing rehabilitation.
As the sun sets, the iconic façade serves as a canvas for a visual fare, conceptualized by CCP light designers Camille Balistoy, Danilo Villanueva, Louie Alcoran, and Shantie De Roca. The visual feast will be complemented by the playful and apocalyptic music by Soundridemusic and Makai-symphony, spliced by Jerry Tria.
A video mapping projection (created by Reily Villaruz) caps the son et lumiere show, highlighting the institution's reach in the past nine months. It will also give the audience a glimpse of events in the coming months, as well as the year ahead. This video projection is set to the music of Jed Balsamo's "Rurok."
Then, audiences also get to jam to the groove of Monzter Jam Acoustic band as they move to the park.
Toym explaining to the crowd the "Kapre" art installation during the CCP Earth Day Celebration (Photo by Orly Daquipil)
The Tanod-Lupa art installation, on the other hand, draws inspiration from pre-colonial elementals. Imao added new elements to the layout, including three more mythological creatures (Easter eggs for guests to look out for!). The creatures are brought to life through the use of various materials: welded steel, ropes, and lanterns, beautifully illuminated with colorful LED lights.
'OURS IS NO HORROR PARK'
The CCP believes that old folktales and centuries-old superstitions have been deeply rooted in Philippine history and heavily moved by indigenous and cultural influences; cultural elements that enriched the Filipino psyche and imagination.
While they were revered by locals (with their characteristics and roles varying across different regions and ethnic groups in the Philippines), most mythical creatures like the manananggal, tiktik, and kapre were demonized by Western colonizers to favor the religion and images they brought with them as tools for our submission.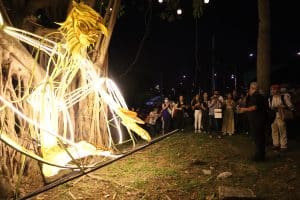 The CCP identified several creatures that were reimagined by Imao to be exorcised of such demonizing perception; now, playful and whimsical, inviting engagement and interaction with park visitors.
"With themes like climate change and cultural promotion, it's perfect for us to bring these creatures from folklore and mythologies to the forefront. We are not the only inhabitants of our environment; we share it with other beings and creatures. Our ancestors remind us that we take good care of our environment lest these tanod-lupa come out to remind us of our shortcomings," shared Imao.
When asked about the reason for his fondness and inclination toward mythical creatures, Imao cited the multicultural ethnic roots he inherited from his parents. Like father like son, Toym is junior to the late National Artist for Visual Arts Abdulmari Asia Imao.
"My mom is Kapampangan, and they have wonderful stories of mythology such as Apo Mallari (God of Mount Pinatubo). My dad came from the South, he is a Tausug. Mindanao is also rich in stories; the Sarimanok itself is a mythical creature. My appreciation comes from a fascination from childhood and growing up with these stories and narratives from my parents," said Imao.
Among the mythical creatures he created, Imao revealed that his favorite is the tikbalang. "I am very fascinated with tikbalang. There are some stories that tell that it is actually a friend. The tikbalang also has a masculine appearance, very heroic," said Imao.
Sinag 2023 son et lumiere show at the CCP Front Lawn happens on September 29 to October 1, 2023, from 7pm to 9:30pm, with shows at 30-minute intervals. Tanod-Lupa at Liwasang KaLIKHAsan is free and open to the public from 6pm to 9pm, every day except Monday.