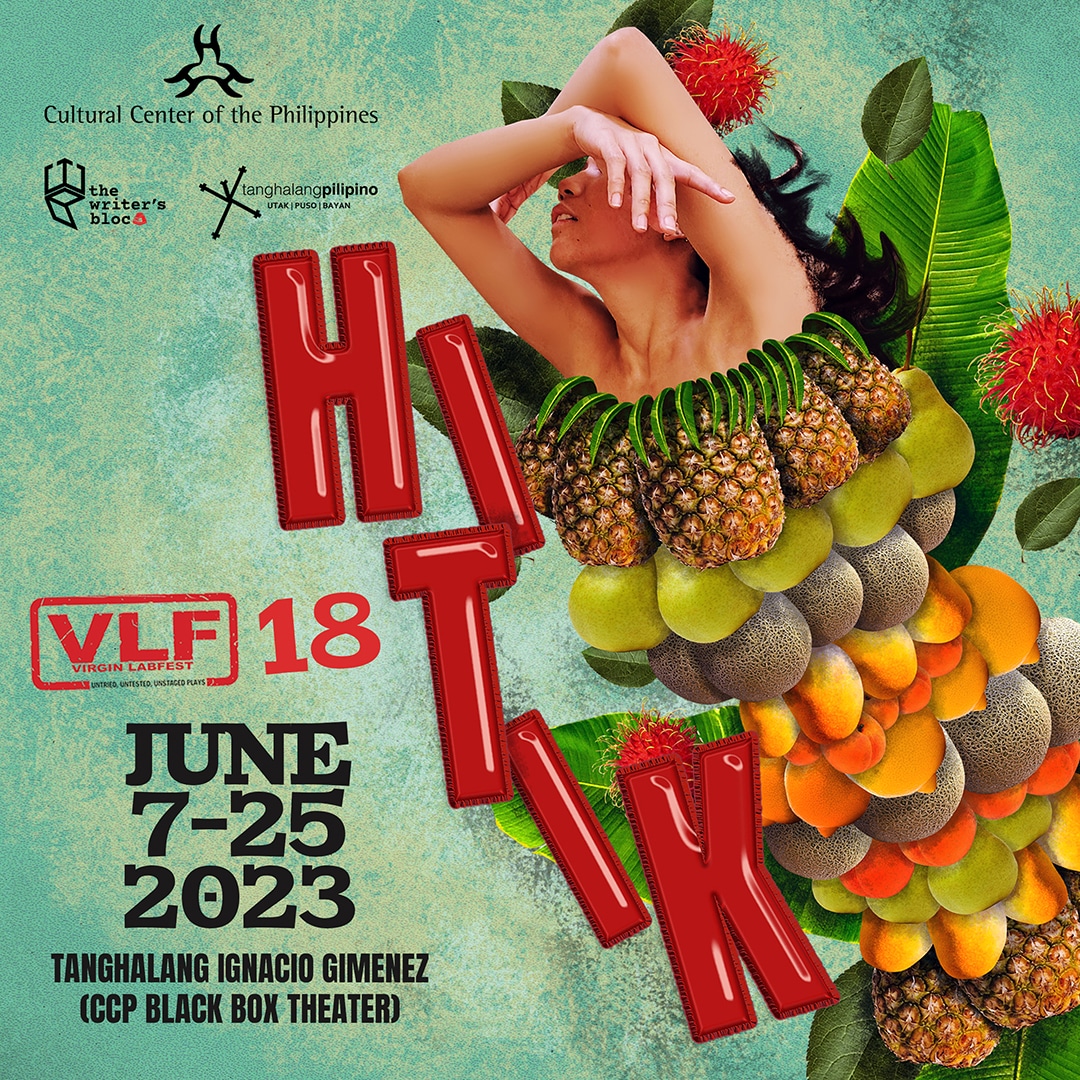 PRESENTED BY:
Cultural Center of the Philippines, Tanghalang Pilipino and Writers Bloc, Inc.
DATE/TIME/ VENUE:
June 7 – 25, 2023 | 2:00 PM & 8:00 PM
Tanghalang Ignacio Gimenez (CCP Black Box Theater)
ABOUT THE FESTIVAL:
The Virgin Labfest is an annual festival of untried, untested, and unstaged works. Since it was established in 2005, it has been known for supporting the development of plays and educating and mentoring young artists/playwrights.  With the two brilliant and young festival directors Tess Jamias and Marco Viaña leading the festival in its 18th year, theater fans can expect brave new works overflowing with Filipino sensibilities and creativity.
Following the theme "Hitik," the festival is filled to the brim with new and exciting collaborations with veteran and virgin directors, designers and actors. VLF  18 opens the curtains with four thematic sets of new one-act plays – Adulting 101 (Set A), REBELasyon (Set B), Y.O.LO. (Set C) and Muwang (Set D). We also bring back one set of revisited plays (Hinog / Set E), and two sets of staged readings.
VLF18 is co-presented by the Cultural Center of the Philippines, the Manila-based playwrights group Writer's Bloc, Inc., and CCP's resident theater company Tanghalang Pilipino.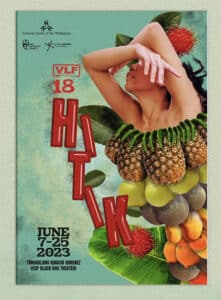 SOUVENIR PROGRAM: (Click to open in a separate tab)
FESTIVAL COMPONENTS: (Click to open in a separate tab)
Featured Works – composed of 12 new one-act plays programmed into 4 sets of 3 plays.
Staged Readings – back-to- basics reading performances of selected scripts from the VLF18 submissions.
Playwrights Fair – panel discussions by leading young and veteran playwrights speaking about their experiences and writing journeys.
VLF Writing Fellowship Program – a 2-week mentorship program on the study and practice of dramatic writing for the stage. The fellows will take part in lectures, discussions, and workshops on playwriting and script critiquing mentored by Mr. Glenn Sevilla Mas.
Theater Talks – a curated forum series on theatre and creative processes featuring speakers on topics of interest to theater actors, practitioners and enthusiasts.
LABTURO: THE VLF 18 EDUCATIONAL COMPONENTS (click to open link)
Festival Schedule (click to open link)
SYNOPSES of Featured Works and Staged Readings (click to open link)
TICKET INFORMATION:
Buy your tickets NOW at Ticketworld
Ticket Price: Php500
Discounts: 20% for Senior Citizens, PWD, Government and Military Personnel, National Athletes
 Note: For shows whose tickets have all been committed (SOLD OUT); if festival pass holders do not arrive, additional tickets may be released 15 minutes before the start of the show.
For Tickets and other inquiries:
 For Group Discounts, please email salesandpromotions@culturalcenter.gov.ph
Festival Passes
Regular Festival Pass (Premiere Week, Mid Week, Encore Week): Php2,000
Premium Festival Pass (Premiere Week, Mid Week, Encore Week): Php3,000
Mechanics and Entitlements:
Festival Pass comes with five (5) viewing credits – 4 Main Feature and 1 Revisited. One (1) credit is good for one (1) show/set. Repeat viewing is allowed, but will be deducted to your five viewing credits. The use of five viewing credits depends on the discretion of the pass holder.
Both the Regular and Premium Festival pass is usable within the selected week only.
Each pass is good for one (1) seat only.
Priority lane entry until five (5) minutes before the show.
Free seating on a first-come, first-served basis (subject to availability when the show has started).
Complimentary souvenir program.
Festival Pass Registration Form: https://forms.gle/PCm8C8TJtij9YFGYA
October 6, 2023
- March 30, 2024
CCP @ ILOMOCA (Iloilo)
Arts Education