PPO Young People's Concert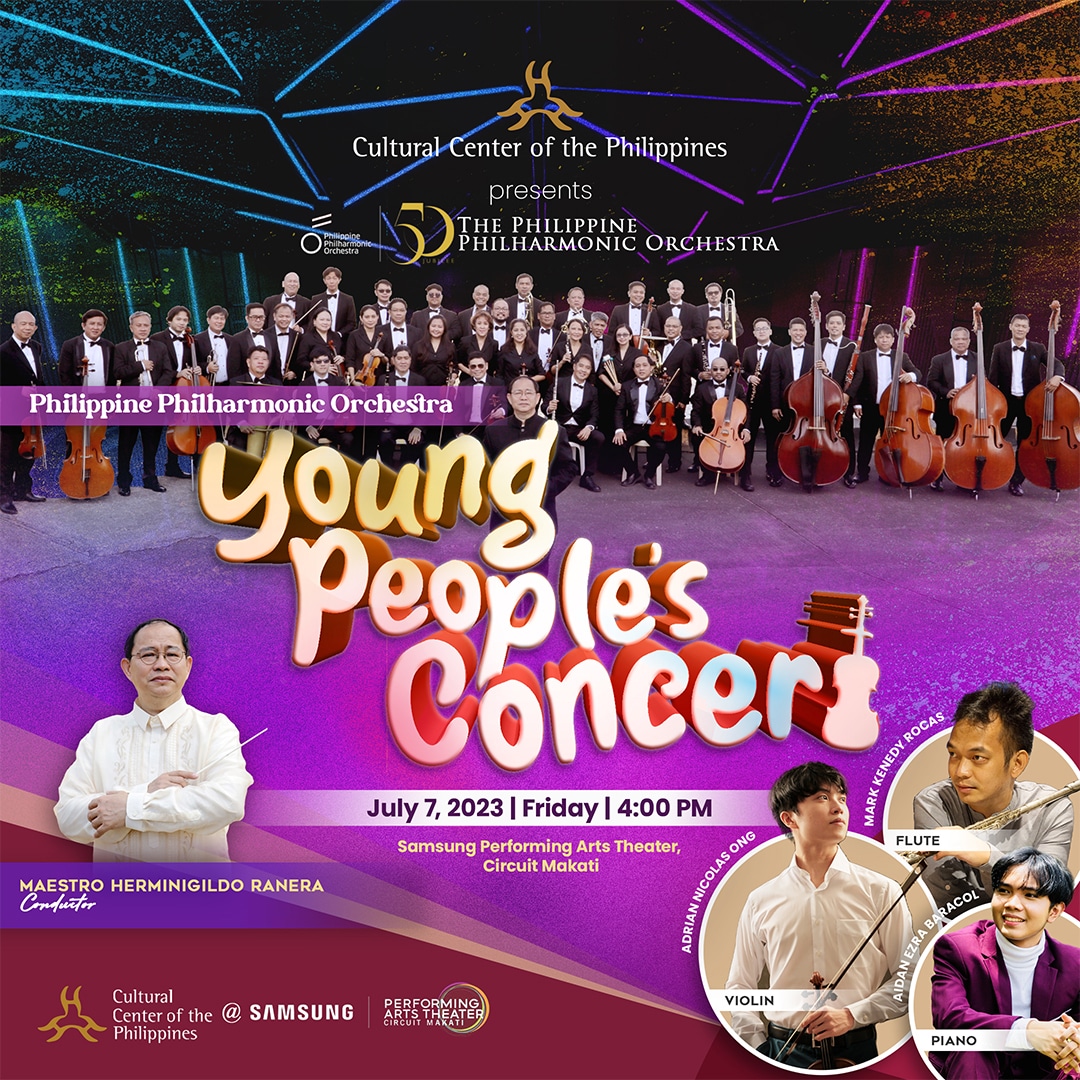 PRESENTED BY:
Cultural Center of the Philippines
DATE/TIME/ VENUE:
July 7, 2023 | 4:00 PM
CCP @ Samsung Performing Arts Theater
DESCRIPTION:
The Philippine Philharmonic Orchestra, under the baton of Maestro Herminigildo Ranera, introduces the rudiments of classical music to young audiences, in this music appreciation program. Joining the PPO are featured artists Mark Kenedy Rocas (flute), Adrian Nicolas Ong (violin), and Aidan Ezra Baracol (piano). Through an entertaining lecture-demo format, the PPO will bring the young audiences closer to classical music by introducing them to the various instruments of the orchestra in a fun and enjoyable way.
PROGRAMME:
Jacques Offenbach                 Orpheus in the Underworld Overture (10')
Wolfgang Amadeus Mozart   Flute Concerto no.2, D Major – 1st and 2nd movements (15')
Mark Kenedy Rocas, flute
Maurice Ravel                         Tzigane (10')
Adrian Nicolas Ong, violin
INTERMISSION
Sergei Rachmaninoff              Piano Concerto no.2, op.18, C minor (34')
Aidan Baracol (piano
Philippine Philharmonic Orchestra
Herminigildo Ranera, conductor
TICKET INFORMATION:
FREE ADMISSION!
September 5, 2023
10:00 AM
- October 8, 2023
6:00 PM
Bulwagang Roberto Chabet 3rd Floor Tanghalang Ignacio Gimenez (CCP Black Box Theater)
Visual Arts