NEOFILIPINO 2023: IN-TRANSIT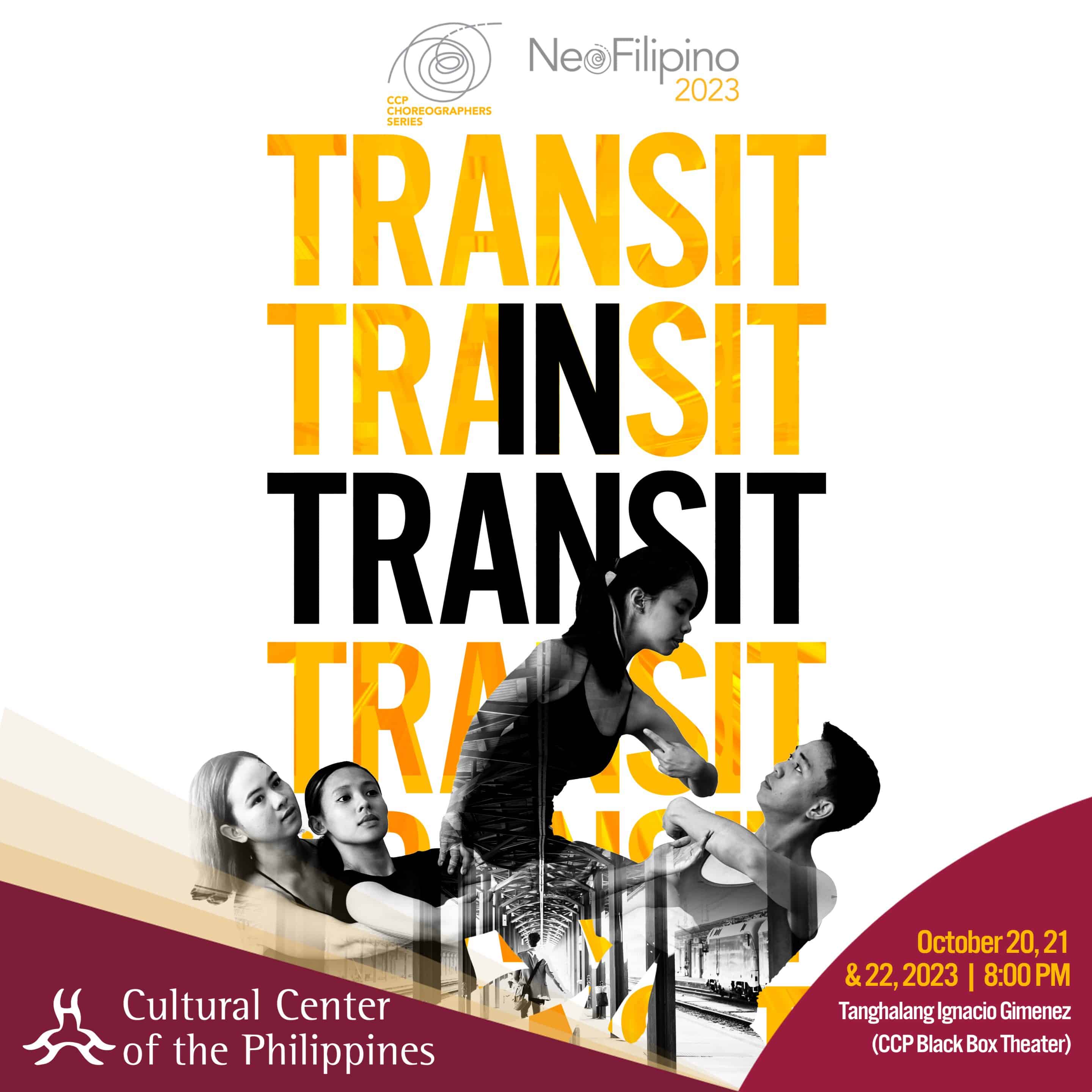 PRESENTED BY:
The Cultural Center of the Philippines
 DATE/TIME/VENUE
October 20, 21, & 22, 2023 | 8:00 PM
Tanghalang Ignacio Gimenez (CCP Black Box Theater)
DESCRIPTION:
The third tier of the CCP Choreographers Series, NeoFilipino is a contemporary dance show that features collaborations between established Filipino choreographers and distinguished artists of other art forms.
NeoFilipino: In-transit invites individuals to fully immerse in the liminality of an ongoing journey. The transitional passage between Point A and B signifies not only a movement towards a return, but also a forging of new pathways through transitory states. The trio of choreographers – Jay Cruz, Al Garcia, and Christine Crame – share a common thread of experience with NeoFilipino – having traversed different territories and now returning as we revive the program back to live performances.
TICKET INFORMATION:
Ticket Price: Php500
Discounts:
20% for Senior Citizens, PWD, Government and Military Personnel
50% for Students
For tickets, call the CCP Box Office at +63 931 033 0880 or check out Ticketworld at https://premier.ticketworld.com.ph/
FEATURED WORKS & CHOREOGRAPHERS:
Christine Crame: "Bicol Train Express"
Bicol Express is a docu-dance; a pensive exploration of the local Philippine Train Ride based on the choreographer's real-life experience during her three-day Bicol train immersion that will involve real-life narratives and facts. It relates the meaning of human and mechanical motion into movement which will be evident in the movement exploration of departing and arrival.
Co-Producers:
Tuxqs Rutaquio
Sari Saysay
Collaborators: Dancers: Benilde Dance Program
Music by : Siyak of Sining Banwa (Bicol)
 Jose Jay Cruz: (TBD)
Jay Cruz's work is structured as a crowd sourcing that gathers various in different dance studios as "stations" of gathering culminating in a performance of his version of The Rite of Spring by Stravinsky.
Co-Producers: Cheska Casauay
Collaborator: Regina Lasan
Al Bernard Garcia: LaoWaiLao 《老外勞》
This immersive performance is a montage of the choreographer's four-year journey as a foreigner in Taiwan, guiding the audience through the significant images that he encounters everyday. Different movements of peoples and the new environment that he is in. This is an experience about Taiwan through the lens of a Filipino.
Co-Producers: Hiraya Fellowship Program, Guang Ming College
Collaborating Artists:
Sarah Samaniego
Wynvel "Wewe" Anguren
Mary Evangeline Recto
Jai Nacionales
Marco Mermida
Janina Garciso
Chan Rabutazo
October 6, 2023
- March 30, 2024
CCP @ ILOMOCA (Iloilo)
Arts Education