The Met: Live in HD Season 8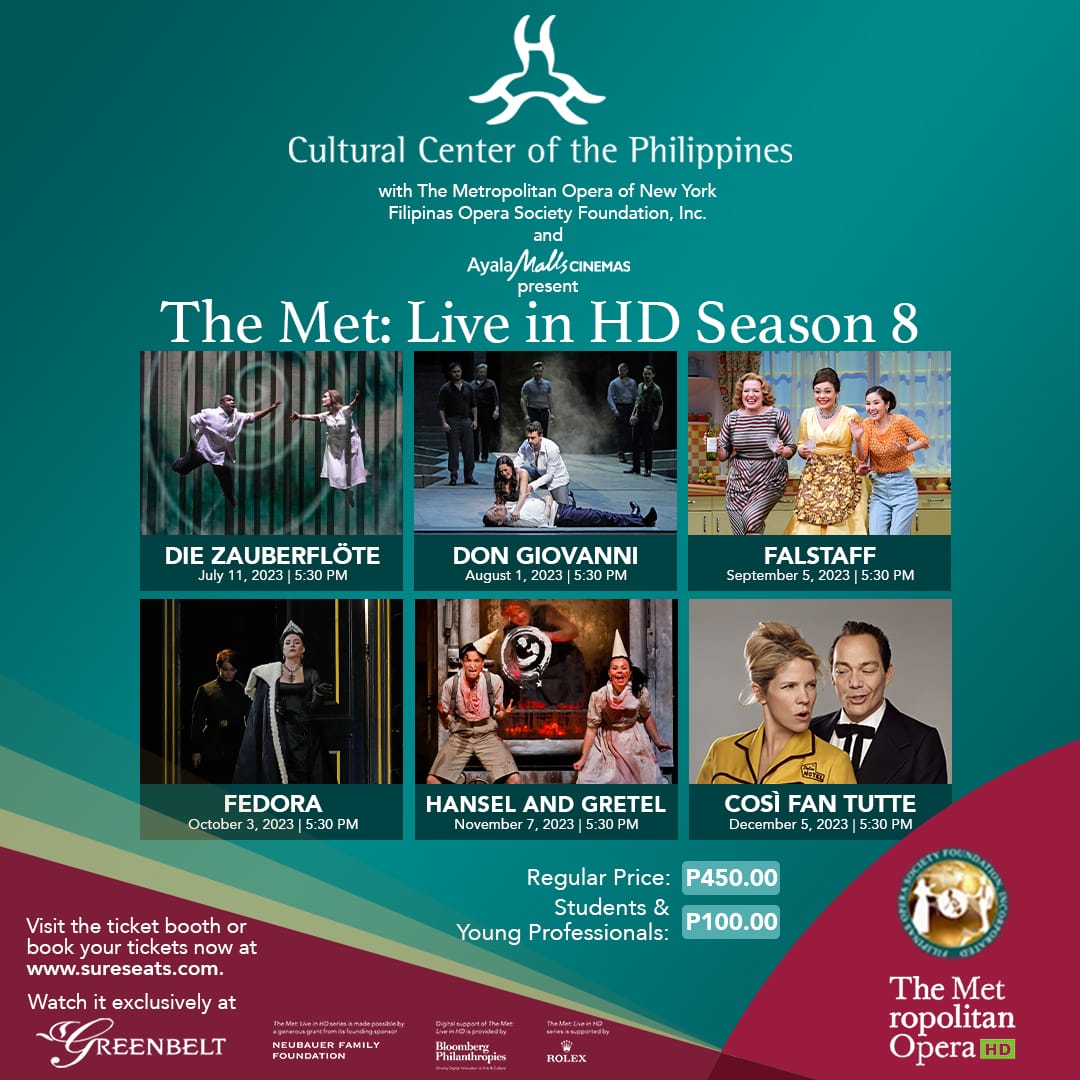 PRESENTED BY:
The Cultural Center of the Philippines
with the Metropolitan Opera of New York, the Filipinas Opera Society Foundation, Inc. and
Ayala Malls Cinemas
DATE/ TIME/ VENUE:
Tuesdays at 5:30 PM
July 11, 2023: Die Zauberflöte
August 1, 2023: Don Giovanni
September 5, 2023: Falstaff
October 3, 2023: Fedora
November 7, 2023: Hansel and Gretel
December 5, 2023: Così Fan Tutte
CCP @ Ayala Malls Cinemas
Greenbelt 3 Cinema 1, Makati City
DESCRIPTION:
Met Opera is back at the theater as the Cultural Center of the Philippines launches the MET OPERA IN HD SEASON 8 in cooperation with the Metropolitan Opera of New York, Filipinas Opera Society Foundation Inc., and Ayala Cinemas. The Metropolitan Opera in HD is a series of screenings of the latest performances by the Metropolitan Opera of New York, delivered in high-definition video and Dolby Surround Sound.
CCP MET OPERA IN HD Season 8 will feature one MET OPERA in HD production every month until December 2023 at Greenbelt 3 in Makati.
TICKET INFORMATION:
Ticket Price:
Php 450 – Regular Price
Php 100 – Students and Young Professionals
Visit the ticket booth or book your tickets at www.sureseats.com.
FEATURED OPERAS:
Die Zauberflöte by Wolfgang Amadeus Mozart
July 11, 2023 5:30 PM; Estimated Running Time: 3 hrs 30 min
One of opera's most beloved works receives its first new Met staging in 19 years—a daring vision by renowned English director Simon McBurney that The Wall Street Journal declared "the best production I've ever witnessed of Mozart's opera." Nathalie Stutzmann conducts the Met Orchestra, with the pit raised to make the musicians visible to the audience and allow interaction with the cast. In his Met-debut staging, McBurney lets loose a volley of theatrical flourishes, incorporating projections, sound effects, and acrobatics to match the spectacle and drama of Mozart's fable. The brilliant cast includes soprano Erin Morley as Pamina, tenor Lawrence Brownlee as Tamino, baritone Thomas Oliemans in his Met debut as Papageno, soprano Kathryn Lewek as the Queen of the Night, and bass Stephen Milling as Sarastro.
DON GIOVANNI by Wolfgang Amadeus Mozart
August 1, 2023 | 5:30 PM; Estimated Running Time: 3 hrs 40 min
Tony Award–winning director of Broadway's A View from the Bridge and West Side Story, Ivo van Hove makes a major Met debut with a new take on Mozart's tragicomedy, re-setting the familiar tale of deceit and damnation in an abstract architectural landscape and shining a light into the dark corners of the story and its characters. Maestro Nathalie Stutzmann makes her Met debut conducting a star-studded cast led by baritone Peter Mattei as a magnetic Don Giovanni, alongside the Leporello of bass-baritone Adam Plachetka. Sopranos Federica Lombardi, Ana María Martínez, and Ying Fang make a superlative trio as Giovanni's conquests—Donna Anna, Donna Elvira, and Zerlina—and tenor Ben Bliss is Don Ottavio.
FALSTAFF by Giuseppe Verdi
September 5, 2023 | 5:30 PM; Estimated Running Time: 3 hrs
Verdi's glorious Shakespearean comedy features a brilliant ensemble cast in Robert Carsen's celebrated staging. Baritone Michael Volle sings his first Verdi role at the Met as the caddish knight Falstaff, gleefully tormented by a trio of clever women who deliver his comeuppance. Reuniting after their acclaimed turns in the production's 2019 run are soprano Ailyn Pérez as Alice Ford, mezzo-soprano Jennifer Johnson Cano as Meg Page, and contralto Marie-Nicole Lemieux as Mistress Quickly. Soprano Hera Hyesang Park and tenor Bogdan Volkov are the young couple Nannetta and Fenton, and Maestro Daniele Rustioni conducts.
FEDORA by Umberto Giordano
October 3, 2023 | 5:30 PM; Estimated Running Time: 2 hrs 45 min
Umberto Giordano's exhilarating drama returns to the Met repertory for the first time in 25 years. Packed with memorable melody, showstopping arias, and explosive confrontations, Fedora requires a cast of thrilling voices to take flight, and the Met's new production promises to deliver. Soprano Sonya Yoncheva, one of today's most riveting artists, sings the title role of the 19th-century Russian princess who falls in love with her fiancé's murderer, Count Loris, sung by star tenor Piotr Beczała. Soprano Rosa Feola is the Countess Olga, Fedora's confidante, and baritone Lucas Meachem is the diplomat De Siriex, with Met maestro Marco Armiliato conducting. Director David McVicar delivers a detailed and dramatic staging based around an ingenious fixed set that, like a Russian nesting doll, unfolds to reveal the opera's three distinctive settings—a palace in St. Petersburg, a fashionable Parisian salon, and a picturesque villa in the Swiss Alps.
HANSEL AND GRETEL by Engelbert Humperdinck
November 7, 2023 | 5:30 PM; Estimated Running Time: 2 hrs
This deliciously dark take on the beloved Brothers Grimm fairy tale, appealing to audiences of all ages, was part of the Met's popular English-language holiday series. Alice Coote and Christine Schäfer star as the famous siblings lost in the woods, who battle the ravenous Witch—a zany portrayal by tenor Philip Langridge—while the Met orchestra, under the baton of Vladimir Jurowski, glories in the rich, folk-inspired score.
Così fan tutte by Wolfgang Amadeus Mozart
December 5, 2023 | 5:30 PM; Estimated Running Time: 3 hrs 15 min
In this new production of Mozart's effervescent comedy of young love and infidelity, director Phelim McDermott and his team of designers have updated the opera's setting to a boardwalk amusement park inspired by Coney Island in the 1950s. The result is a twisted playground in which the two pairs of lovers at the heart of the tale find themselves on one emotional, and sometimes literal, thrill ride after another. Performed as part of the Met's Live in HD series of cinema transmissions, the production features a cast of breakout young artists—soprano Amanda Majeski, mezzo-soprano Serena Malfi, tenor Ben Bliss, and bass-baritone Adam Plachetka. Baritone Christopher Maltman, as the scheming Don Alfonso, and Tony Award–winning actress Kelli O'Hara, who triumphed in her 2014 Met debut in Lehár's The Merry Widow, join the quartet of rising stars. David Robertson conducts Mozart's colorful and heartfelt score.
September 5, 2023
10:00 AM
- October 8, 2023
6:00 PM
Bulwagang Roberto Chabet 3rd Floor Tanghalang Ignacio Gimenez (CCP Black Box Theater)
Visual Arts