HIMIG HIMBING: MGA HELENG ATIN – Isang Araw Para sa mga Batang Sining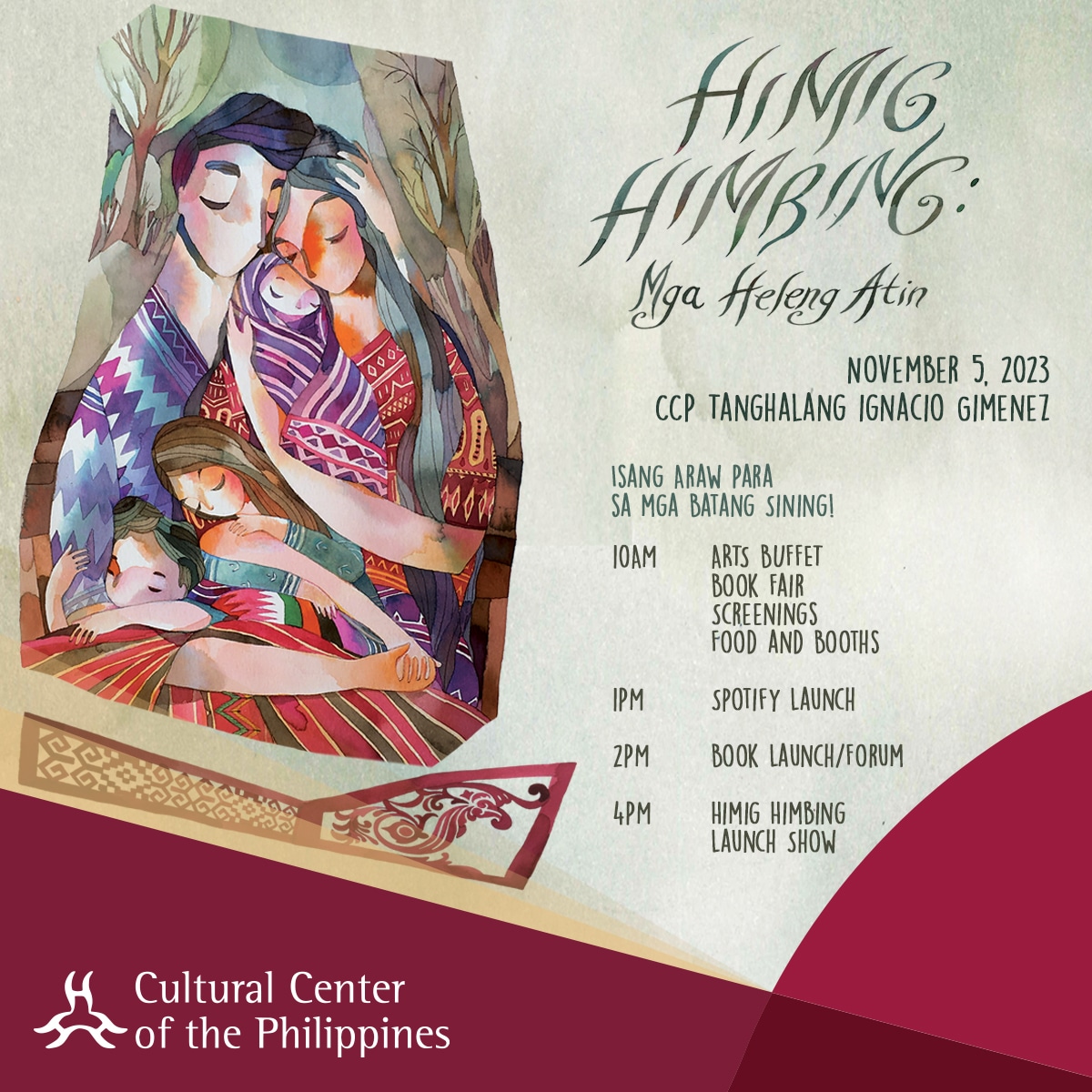 PRESENTED BY:
Cultural Center of the Philippines
DATE/TIME/ VENUE:
November 5, 2023 | 10:00 AM onwards
Tanghalang Ignacio Gimenez (CCP Black Box Theater)
 DESCRIPTION:
In celebration of this year's National Children's Month, the Cultural Center of the Philippines presents Himig Himbing: Isang Araw para sa mga Batang Sining on November 5 at the Tanghalang Ignacio Gimenez (Black Box Theater). This special event is a day for children and their nurturers to gather and bond through different art activities and experiences. The launch of the second set of Himig Himbing features live performances of our country's indigenous and folk lullabies. Himig Himbing: Mga Heleng Atin is a collection of 16 lullabies from various parts of the country. The lullabies will be published in a book and made available on Spotify. Their music videos will be streamed on CCP Facebook and Youtube.
TICKETS:
FREE ADMISSION!
 SCHEDULE OF ACTIVITIES:
10:00 AM
Registration
Arts Buffet: Sleeping Animals, Himig Himbing Listening Station, Traditional to Digital Drawing, Mandala Making, Freedom Wall, Chalk Art Station, Tugtog at Galaw, Puppet Theatre Manila
Events: Book Fair, Screenings, Booths, Food.
1:00 PM
Spotify Launch (Pasilyo Stage)
2:00 PM
Book Launch / Forum (Tanghalang Ignacio Gimenez Lobby)
Himig Himbing: Mga Heleng Atin (A Collection of Cradle Songs from the Philippines)
4:00PM
Himig Himbing Launch Show (CCP Black Box Theater)
October 6, 2023
- March 30, 2024
CCP @ ILOMOCA (Iloilo)
Arts Education