DANCING IN A NEW WORLD (RAMON OBUSAN FOLKLORIC GROUP)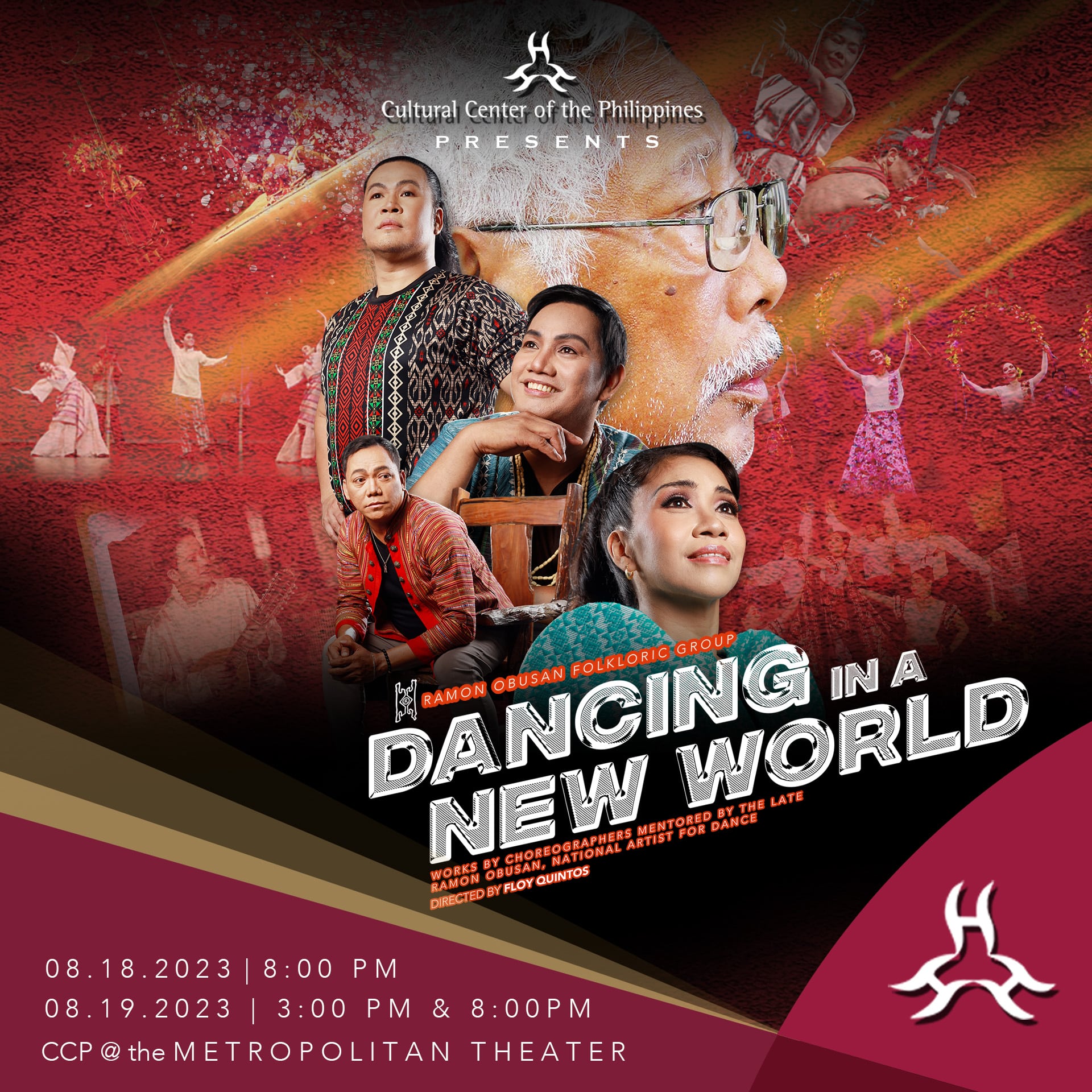 PRESENTED BY:
Cultural Center of the Philippines
and the Ramon Obusan Folkloric Group
DATE | TIME | VENUE:
August 18, 2023 |8:00PM (Gala Performance)
August 19, 2023 | 3:00 PM & 8:00 PM
CCP @ the Metropolitan Theater
DESCRIPTION:
The Ramon Obusan Folkloric Group explores new borders in the presentation of the dances and rituals of the folk and indigenous Filipinos. Inspired by the research and the staging innovations of the company's founder, National Artist for Dance, Ramon Arevalo Obusan, the dance masters he mentored will present a new repertoire that addresses crucial issues that all folk dance companies must address in these changing times. The new works presented here incorporate the concepts of Inclusivity, Empowerment, Cultural Appropriation, and Representation in the staging and interpretation of Obusan's research.
The program will also serve as an artistic platform for the visions of ROFG senior dancers Cherry Ylanan-Villanueva, Jhunnard Jhordan Cruz, Lyle Eymard Villahermosa and Marciano Viri, who were mentored by the late National Artist. It was to them whom he entrusted his vision. Their new works pay homage to their mentor's research and body of work, while expanding the company's repertoire.
Much like Obusan's groundbreaking series "Unpublished Dances", this production hopes to explore how Obusan's research can be translated into accessible and engaging performances created by the aforementioned choreographers. Their vision will take the company and all that Obusan's work represents into the future.
 TICKETS:
Ticket Prices:
Orchestra Center | Php 500.00
Orchestra Sides | Php 400.00
Balcony | Php 300.00
Discounts:
20% for Students with ID (retails), government employees, senior citizens, and PWD
50% group discount for a minimum of 100 tickets
September 5, 2023
10:00 AM
- October 8, 2023
6:00 PM
Bulwagang Roberto Chabet 3rd Floor Tanghalang Ignacio Gimenez (CCP Black Box Theater)
Visual Arts