BRAILLE FOR THE SEEING – Filipino Contemporary Artists on Photography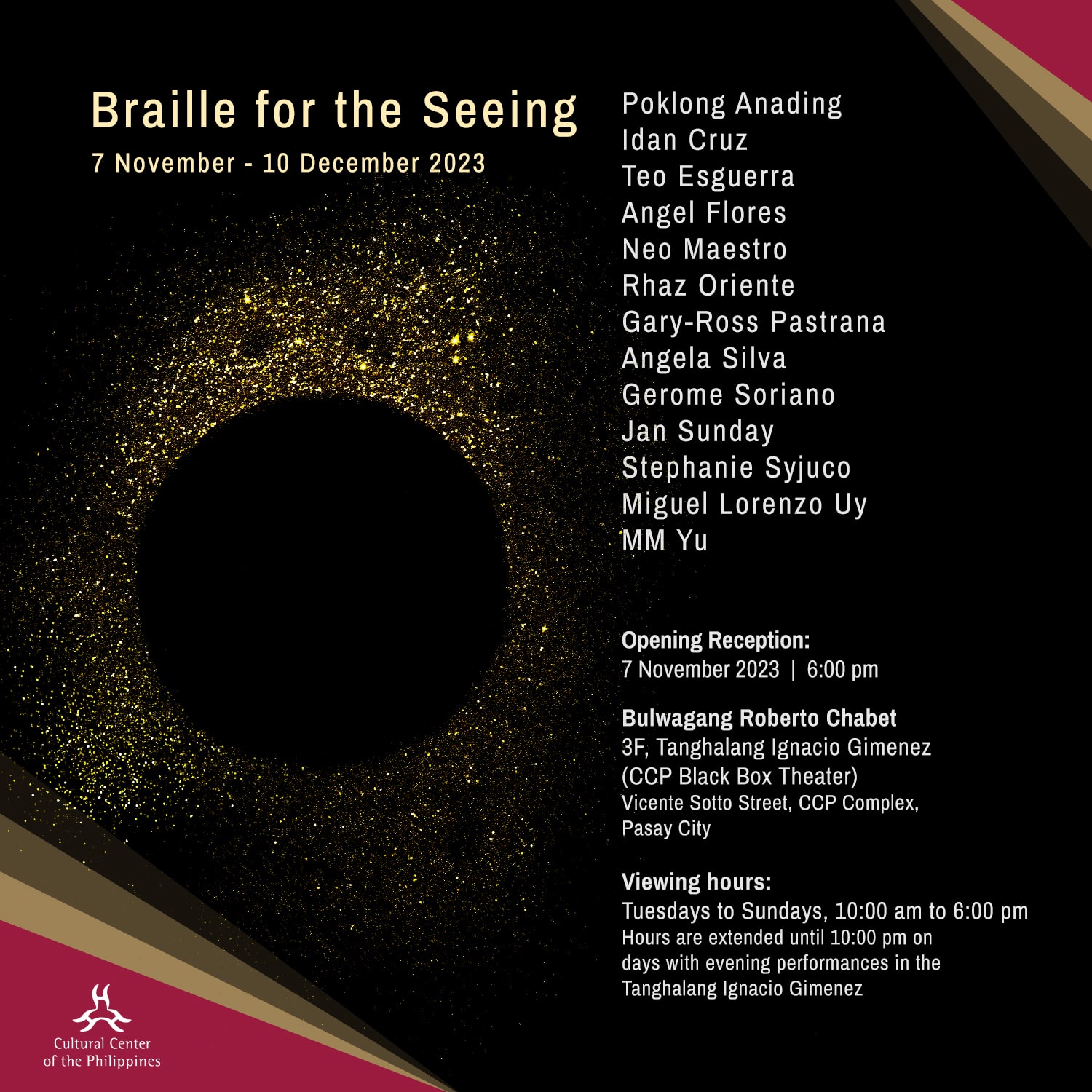 PRESENTED BY:
Cultural Center of the Philippines
DATE/TIME/ VENUE:
November 7 to December 10, 2023
Bulwagang Roberto Chabet 3F Tanghalang Ignacio Gimenez (CCP Black Box Theater)
Opening Reception:
November 7, 2023 | 6:00 PM
Regular Viewing Hours:
10:00 AM to 6:00 PM (Tuesday to Sunday)
DESCRIPTION:
In a digital age dominated by screens, our perception of art has shifted, magnified by the pandemic. Online exhibitions and virtual art acquisition have become the norm. However, Braille for the Seeing opening on November 7, 2023, at the Cultural Center of the Philippines' Bulwagang Roberto Chabet, seeks to revive direct art encounters by exploring contemporary photography in various forms. Originally a response to digital art trends, this project, initiated by Teo Esguerra and Gerome Soriano in 2019, has finally come to fruition. Featuring a diverse group of Filipino contemporary artists, "Braille for the Seeing" invites you to step away from screens and engage in a multi-sensory art experience that challenges preconceptions and broadens your understanding of contemporary photography in the context of contemporary art.
TICKETS:
FREE ADMISSION!
October 6, 2023
- March 30, 2024
CCP @ ILOMOCA (Iloilo)
Arts Education