ANDREA O. VENERACION INTERNATIONAL CHORAL FESTIVAL MANILA 2023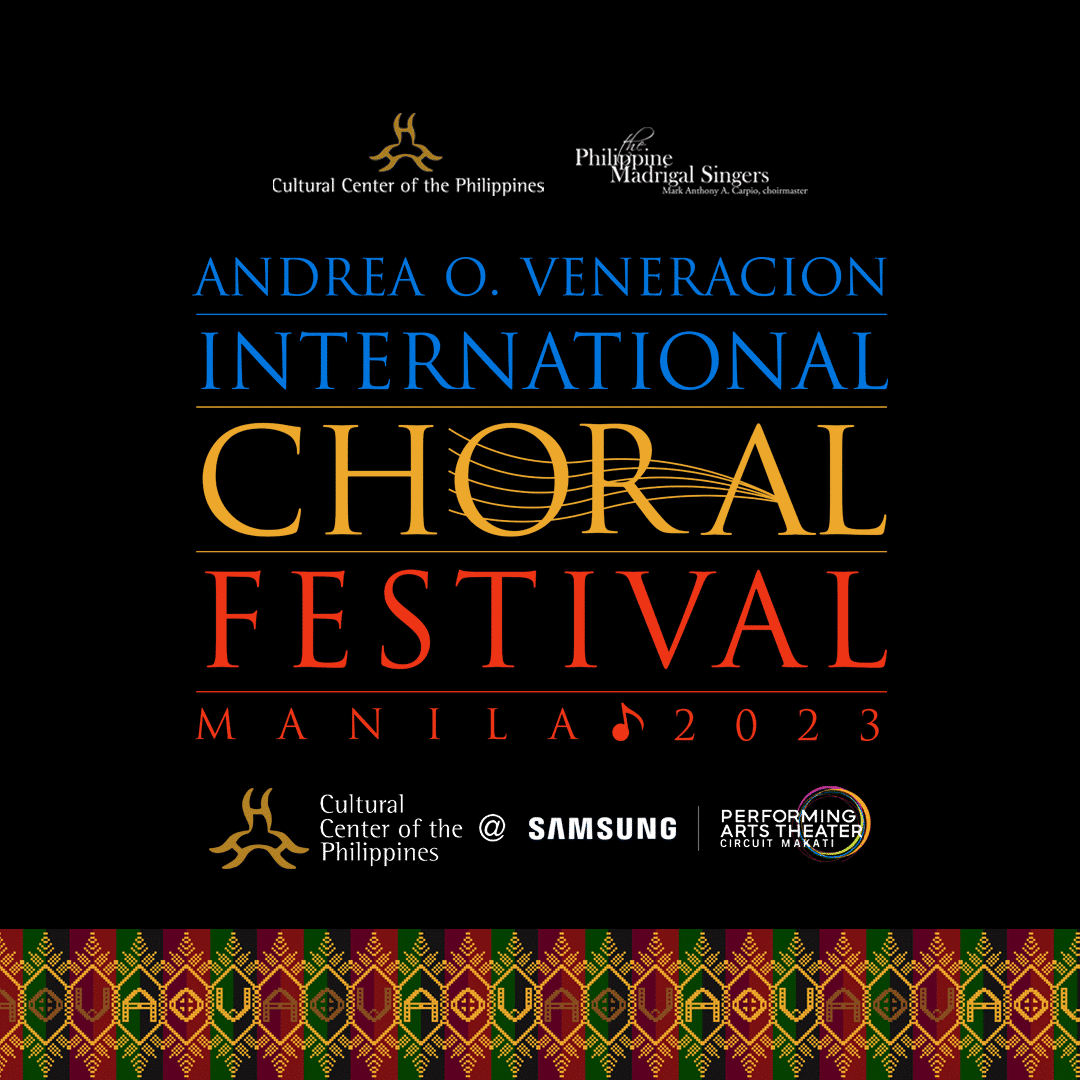 PRESENTED BY:
Cultural Center of the Philippines
With the support of the Philippine Madrigal Singers
DATE/TIME/ VENUE:
July 20 to 23, 2023
CCP @ the Samsung Performing Arts Theater, Circuit Makati
WEBSITE:
 DESCRIPTION:
The Festival is named after the founder of the world renowned Philippine Madrigal Singers, the late National Artist for Music Andrea O. Veneracion, an esteemed choirmaster and choral clinician who was instrumental in the development of choral music all over the country. First organized in 2013, the Festival takes place every two years. The 5th AOV International Choral Festival Manila 2023 has three competition categories: Folk Song, Equal Voices, and Mixed Choir. A jury composed of five internationally renowned adjudicators will evaluate the competition.
TICKET INFORMATION:
July 20, 2023 | 7:00PM | Opening Ceremonies
Tickets: FREE
July 21, 2023 | 5:30 PM | Folk Song Competition
Tickets: P300
July 22, 2023 | 3:00 PM | Equal Voices Competition
Tickets: P300
July 22, 2023 | 5:30 PM | Mixed Choir Competition
Tickets: P300
July 23, 2023 | 3:00 PM | Philippine Madrigal Singers Gala Concert
Tickets:            Orchestra Center – P1,500
Orchestra Sides – P1,200
Loge –  P1,500
Balcony 1 – P500
Balcony 2 – P300
July 23, 2023 | 6:00 PM | Closing and Awarding Ceremonies
Tickets: FREE
October 6, 2023
- March 30, 2024
CCP @ ILOMOCA (Iloilo)
Arts Education